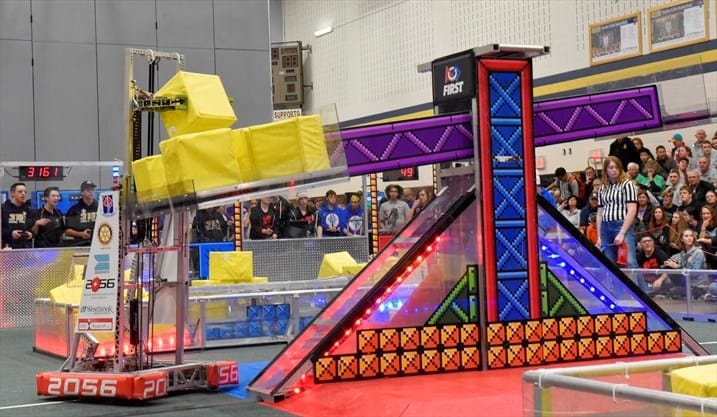 Hamilton high school hosts international competition celebrating tech talents
With a name like Vincent Lombardi, you'd think he would be interested in a career in football.
But at 18 years of age, the namesake of the great NFL coach who died in 1970, has decided to tackle something completely different, something requiring a little more brain than brawn.
It all started a few years ago with robotics competitions he participated in as a student at St. Mary Catholic Secondary School.
And on Saturday that passion — that began in Grade 11 and carried him into technology, automation and engineering studies at McMaster University this year — came full circle.
He was back at the school as a St. Mary mentor for the STEMley Cup, a student-built robot competition between 32 teams from across Ontario, New York and Michigan. His job was to be part of one of the teams competing in the all-day event that drew more than 800 people into St. Mary's gymnasium, hooting and cheering as if it was a championship basketball game.
Robots were tasked with having to move around milk crates, known as "power cubes" where speed and agility were put to the test.
St. Mary was not one of the main winners in the competition that involved teams working together in groups. That honour went to an alliance of teams from Mississauga and St. Catharines with runner-up honours going to an alliance of teams from Orchard Park Secondary in Stoney Creek, St. Jean de Brebeuf Catholic Secondary in Hamilton and a school in Elmira.
But as the organizers note, it's not so much about the winning as it is about the learning, and helping to encourage an interest in further studies in science, technology, engineering and math — known as STEM.
"Before Grade 11, I was thinking about going into business, but then I heard about the robotics team and it changed everything," said Lombardi, who is actually named after his grandfather, rather than the American football great.
"It's a very upcoming and new area and I love it," he said. "It's a perfect time to be studying this."
Automation, as well as other areas of study within science, technology, engineering and math — known as STEM — offer huge opportunities from employment in the future, he says.
And robotics "is really a gateway in helping them understand what careers are available, what exciting careers are available to them at companies such as Dofasco … if they have the right education and the right background," said Richard Do Couto, Specialist, Corporate Responsibility with ArcelorMittal Dofasco.
The steelmaker has sponsored the STEMley Cup for the past four years, looking at it as wonderful investment in the future.
As well as whetting students' appetites for STEM careers, the robotics programs also teach collaboration that Do Couto says is vital in today's industry.
"Everything we do is working in teams, working in collaboration," he said.
ArcelorMittal Dofasco is going through major demographic changes, with boomers retiring, and the steelmaker needs to hire 300 people per year for the next three years
On Oct. 27, the company hosted a major job fair to work toward filling that void.
More than 2,100 people came out and human resources managers are going through the resumes to "get down to the nitty gritty of it," a company spokesperson said.