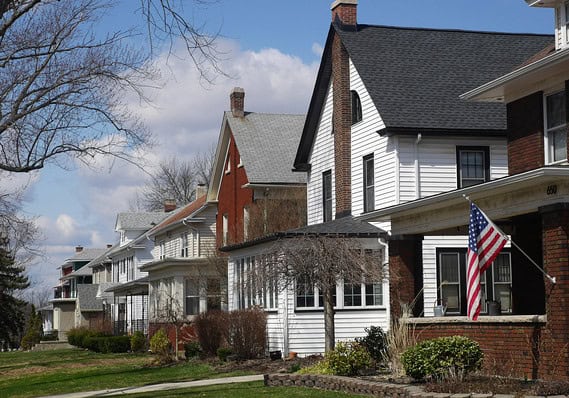 'Not everything is coming up perfectly roses,' says one housing-watcher
Rates for home loans declined as bonds caught a bid, offering some breathing room for stretched home buyers.
The 30-year fixed-rate mortgage averaged 4.83% in the Nov.1 week, down 3 basis points, mortgage finance provider Freddie Mac said Thursday. The 15-year fixed-rate mortgage averaged 4.23%, down from 4.29%. The 5-year Treasury-indexed hybrid adjustable-rate mortgage averaged 4.04%, a 10-basis point drop.
Fixed-rate mortgages move in line with the U.S. 10-year Treasury TMUBMUSD10Y, +1.22% note, although with a slight delay.
Bond yields tumbled late last week as investors fled to the perceived safety of fixed-income assets in the wake of a sharp stock sell-off. As prices rise, bond yields decline.
Meanwhile, momentum in the housing market has waned enough that it's starting to worry many observers. Home prices rose at the slowest pace in nearly two years in August, according to the S&P CoreLogic Case-Shiller report released Tuesday.
Many analysts hope a more moderate pace of price increases will bring market conditions back into equilibrium, and help some frustrated buyers gain a foothold. That's what happened in San Francisco, one of the priciest metros in the country, where home values increased by double digits on an annual basis throughout 2015, then slowed to half that pace, before resuming acceleration late in 2017. (Here's an earlier look at that San Francisco price dynamic.)
But some housing-watchers are more pessimistic. Famed economist Robert Shiller, whose research helped develop the index released this week, raised eyebrows when he told Yahoo News that the housing market now reminded him of 2006, just before it fell off a cliff.
And David Blitzer, who manages the Case-Shiller report at S&P Dow Jones Indices, told MarketWatch that he thinks the market is at an inflection point.
"For 11 months straight, up until July, the national index has gone up by an annual rate of more than 6%," Blitzer said. "Inflation's 2%, plus or minus, wage increases are between 2 and 3%, so home prices are going up almost twice as fast as anything else in sight. That shouldn't happen forever. Something's got to give in a market, whether it's buying houses or groceries. So I've been waiting to see what gives."
The bigger question now, for Blitzer, is whether the housing downturn will pull the broader economy along with it.
"Housing, because it's interest-rate sensitive, turns up first in a recession and probably turns down first in a boom, but with a long lead time," he said.
"I don't think we're going to be in a recession by Christmas this year. No bets for next year. But it probably does indicate that not everything is coming up perfectly roses. If we get a recession that starts sometime between now and the end of 2020 I think people will look back on it and say a-ha, back in October, the stock market was a little bit nervous and housing was going down, that's when it began."