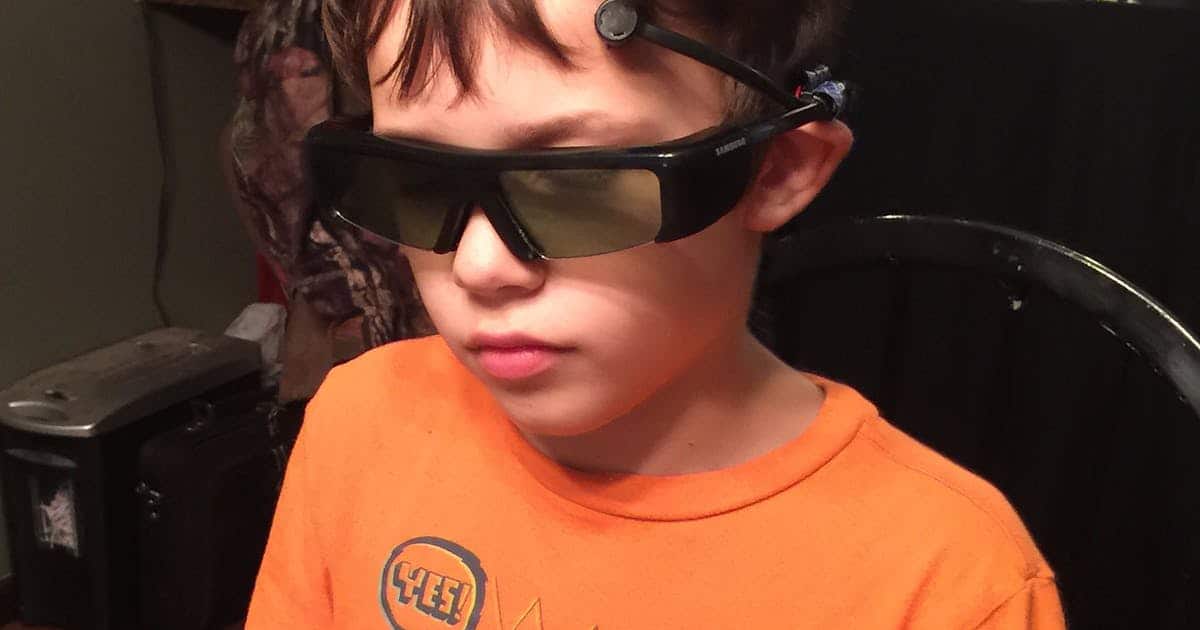 Teaching inspired Rod Greder's entrepreneurial foray into educational technology, started nearly a decade ago.
At 59, Greder works part time for the U extension service, with small farmers, integrating his love of plant science, environment and teaching.
And it was teaching that also inspired, started nearly a decade ago, an entrepreneurial foray into educational technology.
It has consumed years of Greder's time-and-treasure; yielding promise and recognition, but no payoff so far.
Greder is the founder-owner of Awear Technologies and its ConfiBoost Eyewear prototype for students with ADHD and other reading comprehension and learning challenges. It uses a probe, an electrode connected to the glasses, on the forehead and detects micro-electrical signal changes in the brain when attention diminishes. That causes the ConfiBoost lenses to darken. And prompts the student to refocus attention.
Greder and other educators know too well how many students drift while reading or listening to lecture.
"We teachers were told to use more video and interaction to hook them," Greder recalled. "I thought that was a disservice. Catering to their 'learned helplessness' result from all that video activity, all the games and TV shows with fast cuts … and no sustained attention.
"You have to be able to read, listen and understand. If the boss talks to you for 15 minutes, you don't say send me the link. You need to listen."
Greder started researching, put together a technology team, invested $50,000-plus of his own and secured about $500,000 over several years in U.S. Small Business Investment Research (SBIR) grants through the National Science Foundation and the U.S. Department of Education.
The funding and work have yielded a technology patent and some preliminary results that indicate the brain can be trained by "reminding students when their mind wanders," and help them to refocus and potentially lessening the reliance on commonly prescribed drugs.
Jacob Swanson, an associate professor of engineering at Minnesota State University, Mankato, and several of his junior and senior students, worked last year with Greder on the software and hardware that has become Awear's ConfiBoost Eyewear prototype.
"Rod and his team from Awear are working on a very important topic — reading comprehension in schools," Swanson wrote in an e-mail statement. "The basic idea is functional eyewear that senses distraction and alerts the wearer by darkening or occluding the lenses. Through repeated cycles of losing focus and experiencing lens occlusion the wearer is "trained" to improve focus.
"Overall, qualitative feedback results suggested users increased their comfort level with the glasses and occlusion over time. We found some quantitative data hinting at a positive correlation between coached occlusion and reading comprehension, but these results were preliminary, based on prototype glasses. And evaluation of reading subjects is not our expertise."
Greder said the eight MSU engineering students, mature young people who are pretty good at maintaining attention while reading, improved their reading-comprehension scores by up to 7 percent while using the eyewear.
He's trying to raise $50,000 through Indiegogo crowdfunding to finance research on 9- to 12-year-olds at two St. Paul charter schools.
Greder said he believes the gains of elementary school kids will be more dramatic because "their brain plasticity is still very high" compared to high-level engineering students who were subjects of the informal research last year.
"We're doing something a little radical," Greder said. "We need more in-school data with the elementary children who suffer attention gaps."
Greder's firm earned its first SBIR grant in 2013. There was a Minnesota High Technology Association "Tekne" award in 2014. And ConfiBoost's business plan was a Minnesota Cup general division finalist in 2016.
Greder said he has interested some technology investors who want to see data from elementary school kids before they commit to long-term funding that would lead to commercialization. The product would be sold initially to schools and learning centers for about $1,600 per unit; shared by 10 students.
"It's been a long journey," said Greder. "We're doing something a little unorthodox. We're using electroencephalography feedback from the brain. Some people don't understand the system and how it affects the brain. We need more data to prove it works."