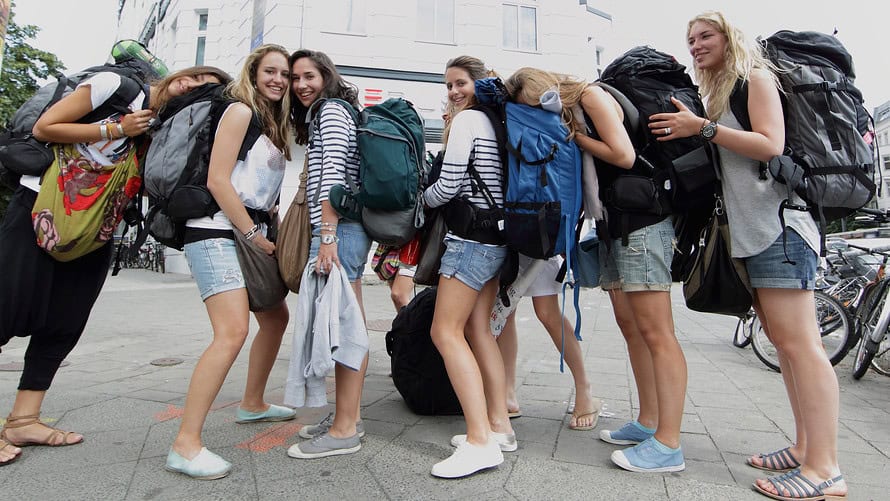 It's a dilemma many 20-somethings face: You badly want to travel the world. But if your bank account could talk, it would say, "Are you kidding?"
When you're just starting out, even a week-long vacation might seem like a one-way ticket to credit card debt — especially if you have a modest income or lack access to paid time off. But with the right moves, you can budget for travel without going into the red.
Start saving
For Krista Aoki, the key to avoiding debt while traveling is simple: Save.
Before a big trip, "I try to always start with a big cushion. I always save up beforehand, and I try to save up more than I need to," says Aoki, 26, an online business manager who does consulting and virtual assistant services for other online businesses. She estimates it takes her about three months to save up for a big trip. She now travels full time and is currently in Kealakekua, Hawaii.
To save for travel, she spends less on other items, such as clothes. She also hasn't owned a car in 2½ years and often relies on public transportation.
You might not be able to pay for a vacation in full right this second. But that doesn't mean you need to choose between taking on credit card debt or being a hard-core homebody. By spending less in certain areas now and setting aside money consistently, you might have enough to cover a small getaway in a few months.
Decide where to minimize costs
The best vacation isn't necessarily the most expensive vacation. By aggressively reducing your basic costs — flights, transportation, lodging, food — you might be able to squeeze in more exploring for a smaller price.
Instead of booking hotels, for example, you might opt to stay at hostels, which are more like college dorm rooms. Often, staying in a hostel means sharing a room and bathroom with others and sleeping in bunk beds rather than on queen-size mattresses. But they're a good way to meet other travelers and can be startlingly cheap.
"A nice co-working hostel in Chiang Mai in Thailand is like $10 a day," says Aoki, who says she spends most of her time in Thailand. "I've been to two, and they're really clean and pretty comfortable, and they include breakfast and a working office." If you're willing to sacrifice some privacy, staying at one might make it easier to pay your credit card bill in full when you return from your trip.
Use credit card rewards
When Leah Gervais was 24, she traveled in Southeast Asia for four months without going into debt, in part by using credit card rewards to pay for her flights.
"It's not that I had a lot of savings ready to go," says Gervais, now 26, founder of lifestyle website Urban 20 Something. "What I did have was a lot of frequent flier miles." She got the miles in college by earning sign-up bonuses on airline credit cards; she didn't carry balances on them. With those miles, she was able to fly from New York City to Siem Reap, Cambodia, and back to New York City from Bangkok for just the cost of taxes and fees. (She paid cash for other shorter flights she took throughout Southeast Asia, which were quite affordable, she says.)
If you've been using a rewards credit card, log on to your online portal to tally your miles or points. It might be enough to cover part of your trip.
Make money while traveling
Both Aoki and Gervais have something in common: They work while they travel. That gives them flexibility to visit more places and stay on the road longer.
"I started doing some freelance writing work while I was [in Southeast Asia]," Gervais says of her four-month trip, noting that the cost of living in Cambodia was significantly lower than it is in Manhattan, where she lives. On that trip, she also worked as a bartender for a short time. Because she was traveling frugally, her income from these jobs was enough to support her abroad.
If traveling is a priority, look for jobs that can be done remotely, such as freelance graphic design or writing. Or consider jobs that require you to take business trips. Working while traveling isn't exactly "vacation," but it's a financially sustainable way to satisfy your wanderlust. While you're exploring, you can make sure money's flowing into your bank account faster than it's flowing out.