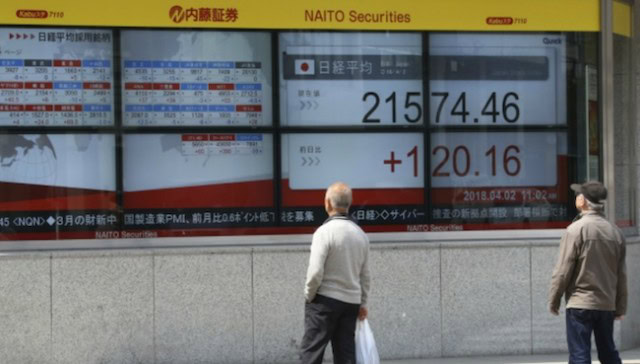 U.S. stocks slumped broadly in early trading Tuesday, sending the Dow Jones Industrial Average down more than 500 points and extending the market's recent string of losses.
The latest wave of selling came as investors grew increasingly unsettled by the prospects for China's economy and the cost of President Donald Trump's aggressive trade policies.
China reported on Friday that its economy grew 6.5 per cent from July to September from a year earlier, the slowest pace since early 2009. The world's second-largest economy was cooling even before the outbreak of a tariff war with Washington.
Technology companies, banks and industrial stocks led the market slide on Wall Street, which followed a steep sell-off in Chinese and other global markets.
The S&P 500 was down 54 points, or 2 per cent, to 2,700 as of 10 a.m. Eastern Time. The index is on course for its worst month in more than three years. The Dow lost 507 points, or 2 per cent, to 24,809.
The Nasdaq slid 184 points, or 2.5 per cent, to 7,285. The Russell 2000 index of smaller-company stocks gave up 30 points, or 2 per cent, to 1,509. The index is now down for the year.
Bond prices rose, sending the yield on the 10-year Treasury note down to 3.13 per cent from 3.19 per cent late Monday.
The Chicago Board Options Exchange's volatility index, known as the VIX, or fear index, was up 23 per cent.
Hong Kong's Hang Seng index sank 3.1 per cent and European markets traded lower.
Markets have been rattled in recent weeks by increased worries over the impact that rising interest rates, inflation and the escalating trade dispute between the U.S. and China may have for corporate profits.
Trump has imposed tariffs on about $250 billion in Chinese imports, and Beijing has retaliated by targeting $110 billion in American products. Trump has threatened to tax another $267 billion in Chinese products — a move that would cover virtually everything China ships to America.
The two countries are locked in a dispute over U.S. allegations that China steals U.S. technology and forces U.S. companies to share trade secrets in exchange for access to the Chinese market.
Shares of Caterpillar tumbled after the heavy equipment manufacturer warned Tuesday that Trump's taxes on imported steel were driving up production costs. The stock plunged 9.4 per cent to $116.56.
Technology companies and banks also took heavy losses. Corning slid 5.9 per cent to $29, while Citigroup fell 3.5 per cent to $64.24.
Truck maker Paccar tumbled 7.7 per cent to $55.85, while engine manufacturer Cummins sank 5.8 per cent to $131.79.
Close to 17 per cent of companies on the broad S&P 500 index have reported earnings for the third quarter, and over half of them did better than expected.
In Europe, the focus was on Italy's dispute with the European Union over its plan to ramp up public spending. The plan expands its targeted deficit to 2.4 per cent of GDP next year, three times more than promised by the previous government.
The European Union is worried that this would prevent Italy from lowering its debt, which is second only to Greece among its members.
International credit rating agency Moody's has downgraded Italy's credit ratings in response.
Germany's DAX slid 2 per cent and France's CAC 40 was 1.4 per cent lower. Britain's FTSE 100 lost 0.9 per cent.
In Asia, Japan's Nikkei 225 index gave up 2.7 per cent and the Kospi in South Korea tumbled 2.6 per cent. Australia's S&P-ASX 200 dipped 1.1 per cent.