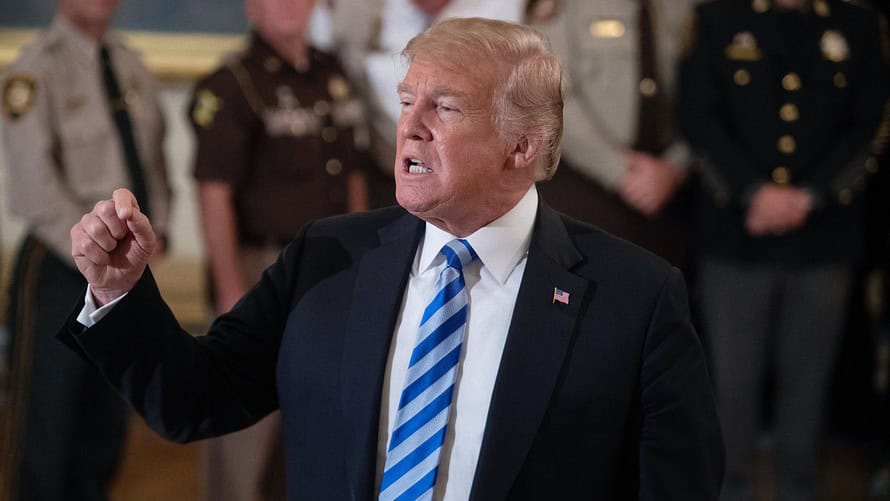 Add potential constitutional crisis to the list of things that don't seem to much rattle stock-market investors.
An attack from within his own administration via an anonymous guest opinion piece published Wednesday by the New York Times infuriated President Donald Trump. The author, which the Times described as a senior administration official, said like-minded colleagues have worked to thwart elements of Trump's agenda and to frustrate his "worst inclinations."
It also echoed the tone of journalist Bob Woodward's new book, "Fear," that portrays an administration in disarray, leading some market watchers to highlight the potential for a constitutional showdown.
Political risk "is not just the preserve of the emerging market space, take a read of today's New York Times' anonymous op-ed from a Trump cabinet member and you will see how close the U.S. is to a constitutional crisis," said Kathleen Brooks, research director at Capital Index, in a Thursday note.
Wall Street, however, wasn't exactly in crisis mode. Stocks ended the week lower, but the selloff was led in part by a selloff for tech stocks. The S&P 500 SPX, -0.22% saw a 1% weekly decline, leaving it around 1.5% below the all-time high notched last month. The Dow industrials DJIA, -0.31% saw just a 0.2% weekly fall.
The mounting political turmoil has some of Wall Street's longtime Washington watchers wondering when that will change.
"We have argued strenuously that none of the political dysfunction in this city has had an impact on what the markets care about — earnings, GDP, interest rates, etc.," wrote Greg Valliere, chief global strategist at Horizon Investments, in a note. "That's still true today, but the spectacle of a president under siege may soon become disconcerting to investors around the world, who want to see stability in the United States."
Investor attention is focused elsewhere, however. American corporations just wrapped up a gangbuster second-quarter earnings season, the economy posted its strongest quarter of growth since 2014, and data continue to point to underlying strength. That's immunized the market against a largely tit-for-tat trade battle that could see the U.S. impose tariffs on an additional $200 billion of Chinese imports as early as Friday.
Trump's mounting legal woes have also failed to unhinge stocks, even as impeachment odds, as measured by political betting sites such as PredictIt.org, have risen. The probability of impeachment before the end of Trump's first term stood at 44% Friday, according to PredictIt.
Indeed, in the wake of a guilty plea by Trump's former personal lawyer on campaign finance violations and the conviction of Trump's former campaign managers on tax and bank fraud charges in August, stocks continued to motor higher. And while Trump predicted in a subsequent television interview that stocks would "crash" and leave Americans poorer if he were to be impeached, market bulls asked what would really change from a policy standpoint.
In the event Vice President Mike Pence were to take Trump's place, they argued, it would be hard to see how the new administration's stance would differ in a meaningful way when it comes to the already enacted tax cuts or deregulation. Meanwhile, a change of personnel could even mean a less confrontational stance on trade, which could be a net positive.
The same logic applies to the November midterm elections, in which Democrats are seen with a strong chance of retaking the House and with a less likely chance of also flipping the Senate.