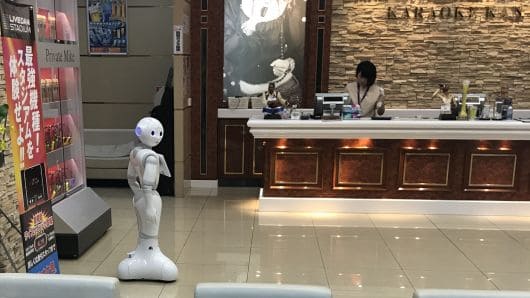 Artificial intelligence could contribute an additional 1.2 percent to annual gross domestic product growth for at least the next decade, according to a simulation from McKinsey Global Institute.
Overall, AI could deliver $13 trillion in additional global economic activity by 2030, putting its contributions to growth on par with the introduction of other transformative technologies such as the steam engine, McKinsey said in a report released Wednesday morning Hong Kong time.
The institute's model expects about 70 percent of companies will adopt at least one form of AI by 2030, and that a significant portion of large firms will use a full range of the technology.
AI uses large data sets and algorithms to mimic human behavior. The world's two largest economies, the U.S. and China, are both racing to invest heavily in the technology. Beijing, in particular, has made AI part of its five-year plan that runs through 2020 and wants to become a leader in the technology by 2030, the McKinsey report pointed out.
"Without AI, China might face a challenge to achieve its target growth rate," Jeongmin Seong, one of the report's authors and a senior fellow at McKinsey Global Institute in Shanghai, said in an interview.
He noted that China's labor productivity is below the global average, while the economy is transitioning to one reliant on consumption. Seong said he expects AI to have a significant impact in sales and marketing, which could boost consumer spending.
He also predicted AI will produce notable returns for supply chain and manufacturing businesses.
The McKinsey report laid out how AI will likely impact the economy through multiple channels, including helping or augmenting human labor, substituting it, expanding available products and services, increasing global data flows and creating wealth.
But the report noted the implementation of the technology will likely incur a range of corporate and societal restructuring costs, as well as disrupt employment, reducing consumption.
"The productivity enhancing, labor-saving technology is a challenging issue for all of the economies in the world," Takashi Miwa, chief Japan economist at Nomura, said at a press briefing on Tuesday. Technologies such as AI will likely lead to greater income inequality, he said.
The McKinsey analysis found that countries that establish themselves as AI leaders — mostly developed economies— could capture 20 to 25 percent more in economic benefits compared to current levels. Emerging economies may only gain half of that, the report said.
"This inequality is not given," Seong said. "The future is up to us to shape."