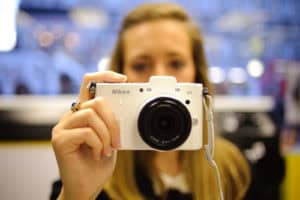 Nikon's 1 series mirrorless cameras never quite set the world on fire, and now it looks like they're on the way out. The company's home division has listed all 1 cameras as discontinued and removed them from its website, while Nikon Rumors has learned that they're no longer available at major camera retailer B&H. They're not completely gone (you can still find them on Nikon's US website or stores like Adorama, for example), but they're on the way out.
In a statement, Nikon told Engadget that 1 cameras, lenses and add-ons are "no longer in production." You could still find the 1 J5 and other models in "some regions," it added.
Provided this represents a full-fledged discontinuation, the timing would be convenient. Nikon is rumored to be announcing two full-frame mirrorless cameras on July 23rd ahead of an August release, hinting that the 1 line is going away to make room for new models. There's looming competition, too, with Canon Rumors hearing about a possible full-frame Canon mirrorless model launching sometime between September and early 2019.
The death of the 1 has been a long time in coming, and wouldn't exactly be a surprise. Like Canon, Nikon was slow to recognize the appeal of mirrorless cams and misjudged the market when it jumped in. It positioned the 1 range as a high-quality point-and-shoots (complete with smaller sensors and limited features) rather than the DSLR alternatives many people wanted, effectively handing the market to Sony. Nikon recognized this and has been hinting at a fundamental change in strategy for a while — it knows it needs to cater to pros and enthusiasts who want mirrorless cameras, and it's just been a matter of when the technology would be ready.
This article originally appeared on Engadget.