Wheaton Precious Metals Corp. (NYSE:WPM) is hailing its latest streaming deal as a diversifying transaction that gives it access to the growth potential in the battery market. That's true, and it's a good reason to like the deal it just inked with Vale S.A. (NYSE:VALE) to support the miner's Voisey's Bay cobalt mine. But there's more going on here than diversification. Here's another big reason to like this gold and silver company's latest streaming deal.
The basic model
As a streaming company, Wheaton provides miners cash up front for the right to buy gold and silver (and other commodities) at reduced rates in the future. Miners use the money for a variety of purposes, including building new mines, expanding older ones, and deleveraging balance sheets. Streaming companies provide miners access to an additional source of capital beyond applying for bank loans, issuing stock, or selling bonds.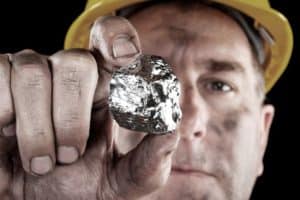 This is a valuable financial alternative for miners, because capital markets and banks can be expensive sources of cash when commodities are out of favor, a miner's balance sheet is weak, or a miner is working on a project that's viewed as risky. Note too that a mine can take a long time to complete, so a streaming deal that doesn't involve making "payments" (in this case the sale of deeply discounted commodities) until a mine is producing can go a long way toward preserving a miner's financial strength.
Wheaton, of course, isn't simply being magnanimous. It gets a huge benefit from these deals in the low prices it pays for gold and silver. To put some numbers on that, in the first quarter Wheaton's average cost for gold was $399 an ounce, which it then sold for $1,330 per ounce. It paid $4.49 per ounce for silver, which it turned around and sold for an average of $16.73 per ounce. Clearly, these transactions are very beneficial for Wheaton, providing it with huge, contractually locked in profit margins.
This switch is bigger than it seems
Wheaton started off focusing on silver, which is often a byproduct of other efforts, like copper and gold mining. Metals generally aren't found alone in nature, and miners are willing to sell off byproduct metals to help reduce the production costs of their core commodities.
However, Wheaton started to diversify into gold a few years ago in an effort broaden its reach and take advantage of the commodity's low price during the deep commodity downturn that started in 2011. The company changed its name from Silver Wheaton to Wheaton Precious Metals in 2017 to highlight its shift to a roughly 50/50 production mix of gold and silver.
Diversifying like this was a logical choice, and one that moved the company's business model closer to that of its largest peers, Royal Gold (NASDAQ:RGLD) and Franco-Nevada (NYSE:FNV). While these two streaming companies are focused more on gold, their portfolios include silver and other commodities. That said, all three used the commodity downturn to aggressively expand their portfolios.
But commodity markets started to rebound in early 2016. With commodity prices moving higher, mining companies simply haven't had as much need to tap streamers for cash. In fact, Wheaton hadn't inked a new streaming deal in nearly two years before the Vale Voisey's Bay cobalt agreement. The only notable transaction that it was involved in since August of 2016 was in support of First Majestic Silver buying a mine for which Wheaton had an existing streaming deal, and that was really an adjustment of an existing deal signed earlier this year.
Simply put, now that commodity prices have moved off their lows, desirable streaming deals have been much harder to come by. The shift into cobalt, which will only account for around 4% of production, was about diversification and a willingness to opportunistically invest outside of Wheaton's core to support the company's long-term growth.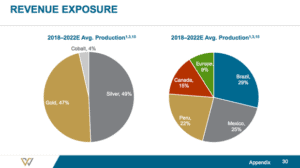 That's a good thing, and is roughly similar to Franco-Nevada using the energy downturn to expand its exposure to oil and natural gas drilling. Royal Gold, meanwhile, has been willing to drift outside of precious metals too, and now has a small amount of exposure to copper (which it acquired when it revamped an existing streaming deal in 2016).
Doing what needs to be done
Yes, Wheaton's cobalt streaming deal is exciting because it diversifies the company's business and provides it with exposure to the battery market. But the takeaway behind that headline is that Wheaton was willing to grab an opportunity beyond its core precious metals focus at a time when gold and silver streaming deals are clearly hard to come by. That, in my opinion, is the more important fact to keep in mind.
This article originally appeared on The Motley Fool.