It's not common for large-cap grocery and specialty restaurant companies to see massive moves in their stock prices. But this week grocer Kroger (NYSE:KR) and coffee giant Starbucks (NASDAQ:SBUX) both saw their stock prices move by double-digit percentages. Kroger's shares surged on a better-than-expected fiscal first quarter, while Starbucks stock dropped sharply after the company lowered its outlook for its fiscal third quarter.
Here's a closer look at each of these stories.
Kroger beats expectations
Kroger kicked off its fiscal 2018 with a strong start, reporting solid financial results and raising its guidance for full-year earnings per share.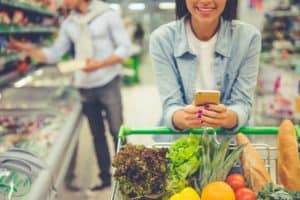 First-quarter sales were $37.5 billion and adjusted earnings per share were $0.73. These figures are up 3.4% and 26%, respectively, compared to sales and adjusted earnings per share of $36.3 billion and $0.58 in the year-ago quarter. On average, analysts expected sales and adjusted earnings per share of $37.3 billion and $0.63.
There were two other notable takeaways from the quarter's performance. Digital sales increased 66% year over year. Comparable-store sales grew by 1.4%; that figure was 1.9% when "calculating identical sales to be more inclusive of company business units — including Kroger Specialty Pharmacy and ship-to-home solutions," Kroger said.
Looking ahead, Kroger raised the low end of its guidance for adjusted earnings per share. Kroger now expects full-year adjusted earnings per share between $2.00 and $2.15, up from a previous forecast for $1.95 to $2.15. For its same-store sales, Kroger said it expects 2% to 2.5% growth in 2018 — a range that reflects Kroger's updated definition of same-store sales growth to include more business units.
Kroger credited some of the quarter's success to "a fantastic start" to its Restock Kroger initiative, which was announced late last year. The strategy features a range of tactics to improve its stores and its customers' experience: improved use of shopper data, an enhanced digital experience, better use of store space, and more.
Kroger stock initially jumped about 10% after it posted its first-quarter results. But shares ended the week up 14%.
Starbucks' comparable-sales outlook disappoints
Shares of Starbucks were slammed earlier this week after the company announced revised strategic priorities and operational initiatives that management said would help the company "accelerate growth and create long-term shareholder value."
Buried in the press release was a financial update on the company's comparable-store sales expectations. Starbucks said it now expected fiscal third-quarter global comps to increase just 1% — well below management's guidance for 3% comps growth during the quarter.
Starbucks also notably said it is accelerating the rate it is closing underperforming stores in the U.S. Starbucks now plans to close 150 U.S. stores in fiscal 2019, up from a normal annual rate of 50 store closings.
On a positive note, Starbucks said it has added five million new digital customers since April 2018. Management said this was driven by several factors: opening up mobile ordering and mobile payments to all customers, instead of making them exclusive to Rewards members; simplifying the Wi-Fi login process; and reimagining Happy Hour to require digital registration.
Starbucks also increased its regular dividend by 20%, and increased its target for returning cash to shareholders through repurchases and dividends to $25 billion through fiscal 2020.
At this writing, Starbucks stock is down about 10% for the week.
This article originally appeared on The Motley Fool.