'Seniors have their pride and it's hard to ask for help,' says one recipient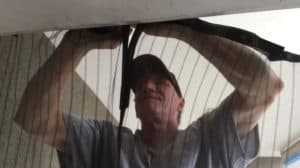 Kamloops' United Way is putting retired tradespeople back to work in a new program that helps seniors with repairs and odd jobs.
The program pairs retirees with seniors who need help around the house.
Kristi Rintoul, the United Way's senior manager of community impact, said she got the idea from another community program that saw businesses and volunteers help non-profit organizations with tasks like painting, landscaping and construction.
"We came up with this great idea to engage specifically individuals who'd retired from trades in giving back to the community and still able to utilize their skills in doing so," Rintoul told Daybreak Kamloop's Jenifer Norwell.
Frank Powers is one of the tradesmen who is volunteering his time after working for 30 years at a local copper mine.
As a natural handyman, Powers said he's enjoying the work and the chance to meet more members of his community.
"Now that I'm retired I've always liked to do this kind of stuff and now I've been able to do it," he said.
He helped Deveen Martin install a few ramps in her home to make the space more accessible for her and her dog, Dolly.
"It's all about giving back to the community, because I worked for 30 years… so I never got involved."
Martin said she was looking for someone who could do the odd jobs she was no longer capable of. "It's difficult, seniors have their pride and it's hard to ask for help."
For some seniors, simple home repairs can grow increasingly difficult, Rintoul said.
Doctor's note or not, all seniors in Northern B.C. now have access to medical bus program
"If you're in your home and you see there's a curtain rod that's loose, that could probably drive you quite crazy if you don't have the ability, the time, the skill set or the funds to fix it," she said.
"We need more help, like volunteers like myself that are willing to take some time out of their day, and these little jobs don't take long," Powers said.