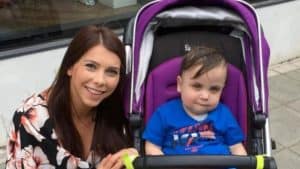 A toddler has been given a life-saving kidney by a complete stranger after his police officer parents tracked down a donor on Facebook.
Ethan Davies, 2, was on home dialysis for 11-and-a-half hours every day when stranger Katrina Roberts, 24, spotted the appeal.
She offered to donate her kidney and on Tuesday, the pair both went under the knife in different hospitals.
Dad James, 43, and mom Nicola, 36, who both work for Thames Valley Police, said her kidney "started working the moment it was connected" to Ethan.
"Katrina put herself on the line for a baby she had never met, who she had no links to – a completely selfless act," James Davies said. "We can never thank her and her family and partner for the chance they have given us and Ethan."
"He is doing really well and I understand that Katrina is also well – although very sore I'm sure," he said.
"I'm an auntie of 10, so the thought of anyone in my family needing anything similar just breaks me – so this was an easy decision for me," Roberts, an ambulance call handler in Northiam, Sussex, said.
Before Ethan was born a scan revealed there was a "blockage" in his bowel which enlarged his bladder and damaged his kidneys.
A second operation to relieve the trapped urine caused an infection which made Nicola go into premature labor at 23 weeks in March 2016.
Ethan has been on dialysis since July 2016, but an infection saw him put into an induced coma and suffer a heart attack in December 2016.
In January 2018, he was strong enough to accept a transplant, and his family and friends launched a search for a match.
They started a Facebook page called 'Ethan's Journey (to a kidney transplant)' which was shared on a page 'UK Cop Humour', which Roberts follows.
It said the ideal donor was a female with an O+ blood group – matching Roberts – so she emailed the hospital that night for more information.
Out of all the people who offered to donate their organ, Roberts' was the best match, and she also had 100 percent kidney function.
Around two weeks later she found out she was a tissue match and met Ethan and his family for the first time in May when they went for a mandatory legal review to see if the transplant could go ahead.
"We've always known Ethan would need a transplant but never knew that an innocent Facebook post to a wider audience would lead to so many offers of kidneys from so many people – some we knew, some we didn't," James Davies said.
"This was the first time the hospital had seen a social media campaign like this and were overwhelmed but very quickly they identified Katrina as being the closest match," he said. "Not only that but her kidney function was well over 100 percent – not a superhero power I knew existed."
Roberts' kidney was removed at Guy's Hospital in London on Tuesday before it was taken to Ethan in Great Ormond Street.
"My fiancé is a police offer so understandably the police family is very close to my heart and we always like to look out for each other," Roberts said, before the operation. "I've had more support than I could ever need."
Ethan's parents said their son is doing well.
"His brand new super kidney started working the moment it was connected and he now produces urine," James Davies said. "He's sedated still but fighting the sedation so they may wake him today. He is going to be cross. Kidney is working well still."