City creating new southbound bike lane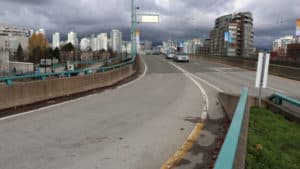 Construction to improve the Cambie Street bridge and add a new bike lane to the span begins Saturday, which could lead to traffic woes for the next few weeks.
Southbound traffic will be down to two lanes and the off-ramp to West 2nd Avenue will be closed as crews start work on the new southbound lane.
That lane will run along the west side of the bridge and down the ramp, fenced in with concrete barriers.
The new lane will replace a southbound lane currently used by cars.
Vancouver City Council voted in favour of the construction in January, saying it will make the bridge safer for cyclists and pedestrians.
The city said most road work will happen at night and outside of peak afternoon travel times. Pedestrian and cyclist access to the bridge will be "maintained as much as possible" during construction.
The improvements are expected to be finished by the end of June.
Last July, around 71,000 people biked across the bridge — nearly double from the same month in 2010.