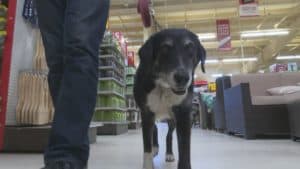 With warmer and sunny weather on the way for the Island, the P.E.I. Humane Society is warning people not to leave pets in hot cars while shopping, and reminding the public about other options.
The society wants more pet owners to be aware of stores that are pet-friendly, and is using social media to get the word out.
"We have put a couple of messages out on social media to say 'hey, tag a business that you know are pet-friendly.' We'd love to be able to compile a really nice list," said Jennifer Harkness, development manager with the P.E.I. Humane Society.
Only service animals are allowed in grocery stores and restaurants on P.E.I., but there are a number of other stores, including Canadian Tire, Kent Building Supplies, and pet stores, where animals are welcome.
Home owners helping bone owners
At Home Hardware in Charlottetown, staff say they typically see at least one dog a day. The welcome mat for dogs is a longstanding policy at the store.
"Because we like animals and two, we actually don't want to see a pet in a vehicle whether it's on a hot summer day or a cold winter day," said assistant manager Tammy Clory.
Clory said she has occasionally seen dogs left in cars in the store parking lot, though not often. She said if staff are aware that a customer has a pet, they encourage them to bring the animal in.
Clory said she expects to see more dogs coming in in the summer months.
Already some calls
The Humane Society has already had reports this week about pets left in locked cars, with calls about two separate incidents on Tuesday.
"As soon as it gets sunny, our offices are busy with hot pet calls, and also the local police department as well," Harkness said.
Both the incidents on Tuesday ended safely, with the owners coming back to their cars before protection officers had to intervene.