The commonplace PDF format remains a great way to quickly compile and publish electronic information. The hard part comes when you try to change anything inside the PDF: They aren't really designed for editing, and you need special software to tweak the content.
That's why we've got the best three options for how to edit a PDF when you really need to make important changes.
Method 1: Using Adobe Acrobat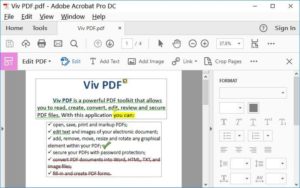 The PDF format was created by Adobe, so it makes sense to turn to Adobe Acrobat apps when editing PDF files. To use this method, you will need access to Adobe Document Cloud (DC). If your company/budget already pays for an Adobe subscription, this is no problem – just go into Acrobat and follow the steps. If you have a one-off PDF project that you really need to edit, you can start a free trial of Adobe DC and gain temporary access to the tools you need without investing in long term costs.
Step 1: In Adobe Acrobat, head to "File" and "Open" the PDF file that you want to edit. The content should appear in your Acrobat window.
Step 2: Look for the "Edit PDF" tool, which should be a selection in the right-side selection of tools. Select it to move to an interactive mode that allows you to select PDF content.
Step 3: Make your changes. You can edit text, look for spelling errors, resize most elements (use the Objects tools here), and much more. Background, Link, Header and other toolsets all apply here, allowing you to pretty much edit whatever you want.
It's also worth noting that Adobe has mobile app versions of this software if you need to work on the go. The app is also one of the best places if you need to print a PDF.
Note: If you don't mind paying for a more permanent version of the service, prices for the standard version start at $15 per month—there is no permanent license option if you want to edit PDFs. There is also a free PDF viewer version of the software with far, far fewer capabilities if you're more interested in just viewing PDF content than changing it.
Method 2: Alternative apps
Third-party apps provide a variety of fast PDF editing options as an alternative to Adobe Acrobat. They're usually free and are available to use or download with a quick trip to your browser.
While these tools are more limited than Adobe's offering, they are an ideal solution for simpler edits or edits away from other more reliable software.
PDFsam
If your goal is to move around PDF pages to form more complex documents, then PDFsam is all you need. It's an extraction tool that you can use to pull out and switch around any PDF pages within a file or between various PDF files to build the document that you need. You can split PDFs via bookmark, size, or customized page limit, and rotate pages as necessary.
PDFsam's layout is simple and easy to understand for beginners. However, it deals solely in moving content around your PDFs, useful when publishing larger documents and creating outgoing PDF messages quickly. However, it's not much good if you want to dive down deep and alter colors, fix resolution, address spelling mistakes, and so on. There is an enhanced version of the software that adds more editing functions in an additional free download, but this option is more complex, and will take longer for newcomers to learn. If you are only interested in merging many PDFs together, check out the best software for merging.
PDF Xchange
This free download comes with the PDF-Xchange Editor which provides a long list of things you can do to PDF pages — in some ways even more complete than Adobe Acrobat. You can split, merge, edit, spellcheck, translate to other languages, add comments, and insert external links. The software also includes plugins for Javascript engines, file backups, image embedding, custom stamps, working with Google Drive, and a whole other set of features that come when you buy an advanced license.
In other words, you can probably find the right tool to do exactly what you want to a PDF file. The downside is that it might take a while to learn and locate precisely what you need, especially when first using the software.
Sejda online PDF editor
If you don't fancy downloading any particular software to edit a PDF, online editors like Sejda are perfect. It allows editing of existing text within a PDF, digital signing, white-outing, adding of images and shapes, and annotating text too.
There are some limitations to the service, such as a maximum of 200 pages for editable PDFs and it won't handle PDFs larger than 50MB in size. However, if you want additional functionality there are subscription packages available which open up unlimited pages and PDF size, as well as access to the desktop application.
Method 3: Converting the PDF file
The last option is available if you aren't comfortable with PDFs or if you need to do a lot of detailed work without learning new apps. Convert the PDF into a different format and work on it in software that is more comfortable or more suited to your needs. The most basic way to do this is in the word processing application you already use, whether that's Microsoft Word or Google Docs. While that can get the job done, the issue is that PDF conversion can be hit-or-miss, especially in these basic word processing applications. Things like markup, fonts, and formatting may all be different.
We suggest starting with a dedicated PDF converter like Able2Extract Professional 11, which allows you to convert PDFs into CSV, Word, PowerPoint, AutoCAD, and even Excel formats, among other choices. It also allows you to convert back to PDF once you are done — a somewhat safer process than the first conversion step.
If you plan on converting PDFs no matter what, you could also stick with Adobe Acrobat. Adobe allows you to convert PDFs to Word, Excel or PowerPoint within Acrobat. If possible, this is a great choice because Adobe's format conversion tends to be more accurate than most.
For more detailed guides on conversion, check out our how-tos for turning a PDF into a JPEG or turning a PDF into a Word document.