'It's very nice to see young people treating older people with respect,' grandfather says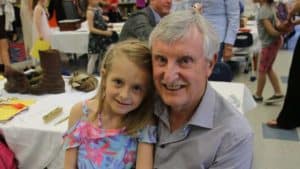 Elementary school teacher Gwen Helsen was shocked to hear her students describe old people as wrinkly, grumpy, slow and weak.
"They need to take naps. They all have fake teeth. They all have hearing aids," Helsen told the Calgary Eyeopener, repeating what her students told her.
That negative response pushed her to launch the first "Grandparents Day" at southwest Calgary's Earl Grey School.
The 44 Grade 1 and 2 students interviewed their grandparents, wrote essays about their lives and brought a family artifact to class to display. Their grandparents came in to see their work and enjoy a concert and tea.
"As a young boy, my papa grew up in Scotland, came to Canada when he was 19," eight-year-old Vivian Loch read aloud from her essay.
"School for my papa was very different than [for] me. He went to a one-room schoolhouse. My papa got the strap three times a week. He was a silly boy."
The teachers were inspired by local author Sharon Butala, who spoke with the Calgary Eyeopener last month about ageism she faces as a senior. She was disheartened by young people she had met, who she felt ignored her or treated her as being on the way out.
To fix the disparity, Butala encouraged older people to visit elementary schools so children can grow up being familiar with people of all ages.
Vivian's grandfather, David Loch, enjoyed her essay, especially how she said his favourite food was "tatties and mittens," not the hearty Scottish comfort dish, tatties and mince.
"We older people really don't think we're old, but when we were Vivian's age, we used to think somebody 70 was really old," said Loch, who came from Winnipeg for the event.
"So it's very nice to see young people treating older people with respect and just learning from that experience, as we do learn from theirs."
'Best turkey burger maker'
One boy, seven-year-old Parker Jones, interviewed three of his grandparents.
"Meet the world's best turkey burger maker and monopoly player, my nana," Parker said in his three-page essay.
"Her phone was a party line that she had to share with six other families. That means other people could listen in on your phone conversations."
Nana, who's name is Judy Hehr, said the essay make her "an ongoing proud nana."
"I think it's hugely important because what it allows the students to understand is that aging is an ongoing process," she said.
"Being stereotypical about any group is not necessarily something that they should or any of us should do. I think it provides a sensitivity."
The teachers were pleased with the turnout and the overwhelmingly positive change in their students' opinions.
Now the students are giving compliments, like saying seniors have lots of wisdom and talent, and are good at telling stories.
"They can teach us how to cook and they can teach us how to do pottery and they actually can fix electronics," Helsen said. "They had really positive things to say, that every single person has a story to tell and something to offer."