4 years ago, Jillian O'Connor of Carleton Place faced the choice of aggressive treatment or having her baby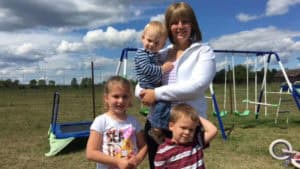 It's a decision Jillian O'Connor calls "easy."
When the Carleton Place, Ont., resident was diagnosed with breast cancer in 2014, she was expecting her third child.
O'Connor decided to go ahead with her pregnancy despite being told terminating it was the best option for her survival.
"If I had terminated the pregnancy, that would not have been me. I would have been incomplete as a human being," she told CBC Radio's Ottawa Morning on Friday. "We decided that we were going to proceed with the pregnancy and carry on, no matter what."
But she was going to need some level of treatment if she was going to live long enough to bring the baby to term.
'That was the best decision ever'
She credits Dr. Mark Clemons at the Ottawa Hospital for coming up with a solution to suit her needs — one that would allow her to get some chemotherapy but also allow the baby to be born without side effects.
Months later, her son Declan was born Feb. 1, 2015, perfectly healthy.
"When we held him and looked at him we knew right away that that was the best decision ever. I am so glad we didn't listen to anybody who was a naysayer to him being born," she said.
Choosing to move ahead with her pregnancy meant O'Connor could not receive radiation therapy, or have MRIs or CT scans that would provide a clear picture of her cancer.
The day after she delivered Declan, tests showed her cancer was not only in her breast, but in her liver and bones. It is considered incurable and she was given two years to live.
Then, in August 2016, she found out the cancer had spread to her brain.
'Adult problems'
O'Connor's life has become a balancing act, managing motherhood and cancer, but she's managing to pull it off.
She and her husband have decided not to talk about her illness with their children.
"We don't 100-per-cent shelter them from things, but I want them to be kids and have a childhood," she said. "Our problems are adult problems, and they are just little kids. They don't need that heavy weight put on their shoulders."
She is fortunate she has relatives nearby who can help. "We just tell them that mummy has lots of appointments, but it's fun because it means grandma comes down, or grandpa," she said.
O'Connor has outlived her prognosis and is grateful for the team helping keep her alive so she can watch her children grow. "I am so thankful every time I receive chemo or get a scan. I feel lucky that they are still are able to help me," she said.