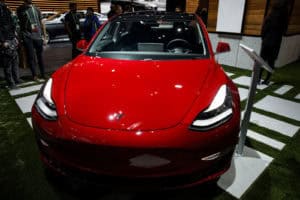 Tesla is still struggling to produce the Model 3, but there are signs that it's improving. The EV brand has delivered its first Model 3 outside of the US, handing the keys (or rather, keycard) to a driver from Kingston, Ontario, Canada. There had been hints this was coming in March, when Tesla sent purchase invitations to pre-order customers, but it wasn't exactly clear when the Model 3 would arrive in the country.
The configuration by itself is the ones early American buyers have received with rear wheel drive, a long-range battery and a premium interior. However, it's coming just days before Tesla starts accepting all-wheel drive orders. The company has clearly removed at least some of the bottlenecks that were holding back Model 3 production — it's not in full swing yet, but Tesla's 'entry' EV is no longer the rarity it used to be.
This article originally appeared on Engadget.