Schenk leads on-campus club that builds friendships between students and people with intellectual disabilities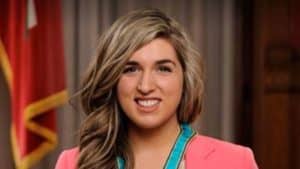 Michelle Schenk says she didn't have to look hard for inspiration to get involved in her community.
"My mom has always been an advocate for people with various disabilities," she said.
"I've always had a place in my heart so I thought it would be a great way to become involved with both the school and the community."
Recently, the Nipissing University graduate was recognized for her volunteer work. She recently received an Ontario Medal for Young Volunteers. It's the highest honour young people in the province can receive for volunteer service.
She's one of 10 Ontarians who received the award. She served this year as the president of the university's chapter of Best Buddies, an on-campus club that works to connect and build friendships between students and people with intellectual disabilities.
Schenk says she originally volunteered on campus, but wanted to reach out into the community.
"I was really excited about the idea of creating genuine friendships," she said.
The group organizes two events per month, including going to basketball games, cooking classes and hockey games. Schenk helped organized these events and also assisted in fundraising.
She says the program creates friendships.
"The smiles, the laughs and the involvement — it's an absolute beautiful sight," she said.
Schenk recently graduated from Nipissing and says she's aspiring to become a special education teacher.
She says volunteering will always be an important part of her life, adding she hopes to pass that spirit on.
"Volunteer with something that you love, something that you're passionate about," she said.
"You may be out of your comfort zone going out to volunteer but once you're there, the genuine happiness that you can bring people and is brought to you in return … that really helps to bring to light the most incredible experiences that can come from it."