Thanks to Google's Android Auto and Apple's CarPlay, the vehicle infotainment experience has drastically improved over the past few years. You get quicker and easier access to your tunes, maps, contacts, and more, matching our current digital lifestyle. But these services still require you to plug your phone in to work. Google's going a step further by working with manufacturers to integrate a custom Android P-based operating system (OS) directly into cars.
Volvo's senior vice president of research and development, Henrik Green, told Digital Trends that the idea came about quite a few years ago when the company first started integrating Android Auto and Apple CarPlay into the existing vehicle OS.
"You would mirror your phone up on the screen, which is a great system, but then it sort of immediately came to me that this should be an integrated OS, part of the ecosystem by itself, not through a smartphone you're carrying and a cable," he said. "And then we met with the Google team, and they have had the same thought for a while, and presented their idea, and we sort of connected around that idea."
So how does Android look built into a car? We got a close look in a prototype Volvo, which is also the first automaker that announced it will be using Google's services and Android for its first vehicle next year, and then with more car models after that.
A smarter experience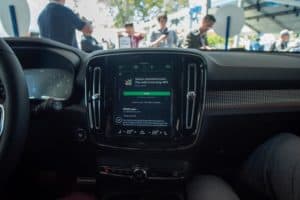 Like Android on smartphones, carmakers will be able to add their own "skin" or theme to the Android P-based operating system, so the car can feel more like the brand. For example, Android in the Volvo demo car looks very similar to Volvo's Sensus interface in current vehicles. There's also a pure Google version of the OS as a reference design, but it's unclear if any car brand will opt for it.
You can pair several phones to the car, and save them as different users. Each user's seat position, favorite music app or radio station, and other details are saved as a profile, so when you switch to another user, the car immediately swaps everything to the new user's preferences. It feels futuristic, especially when the car seat automatically starts to move.
With the new Android P-based operating system, you have access to the Google Play Store, Google Assistant, and Google Maps. Having the Play Store at the ready means you'll have access to a greater ecosystem of apps, though not the all apps on the Play Store on Android are available. It largely means we can expect developers to create more apps tailored for the car experience.
There's a notification drawer as well, but Google said it's still working with manufacturers like Volvo to figure out a safe way to alert drivers. Currently, you can mute conversations from messaging apps in Android Auto.
Google Maps is a little more optimized in this native car experience — there are actually three ways to see your current route information: The main central hub shows traditional-looking Google Maps navigation, then the cluster display in front of the driver shows more streamlined information about the route, and then you can even see turn-by-turn navigation details on the windshield. Google also had to optimize Maps to make use of the large and oddly shaped screen size in the car.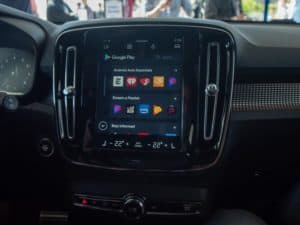 The Google Assistant is the main way to interact with the car, and you can access it via a button on the steering wheel. You can ask it to tell you more about certain features in the car, and even to control things like the car temperature. Naturally, you can also ask the Assistant to play music, ask search queries, control smart home products, and more. Voice control in cars has typically been a rubbish experience, so it's refreshing to see it drastically improve thanks to Assistant.
Just because Volvos and other cars may be powered by Android, doesn't mean you'll need an Android phone for it to all work. Even if you have an iPhone, just pair your phone via Bluetooth to receive calls and messages, and you're good to go.
"The services should be a big improvement for the consumer," Green said. "They will be always connected — we're shipping these together with connectivity."
We'll likely learn more about development towards the end of the year, as Volvo expects to have Android in its first car by 2019.