In the past year, Denise Desjardins has brought Cree language and culture into her use of technology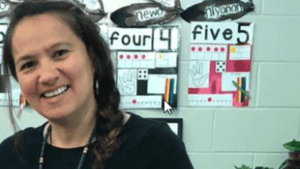 When she saw kids in her Grade 1 and 2 classes light up over seeing photos of themselves in a story with Cree words, Denise Desjardins knew she was on to something.
"They were totally engaged," she said, explaining how she began combining digital learning with Cree language and culture in her teaching in her home community of Mistawasis First Nation.
"So I knew that's where I needed to go, to get them involved in their learning."
Those efforts have now been formally recognized, with Desjardins winning a Prime Minister's Award for Teaching Excellence in science, technology, engineering and mathematics (STEM).
She was surprised when a member of the Tribal Council approached her and asked if he could nominate her for the award.
"It was a shock even to be nominated for this, because I do what I do for the children, for my community," she said, explaining she didn't see her efforts as unusual or extraordinary.
"It's still so surreal to me this is happening."
Apps with First Nations content
Desjardins has been teaching at Chief Mistawasis school for nearly 14 years, but this year she was involved in a pilot project, doing one-to-one tablet learning.
I just feel that's my home, and that's where I need to be.
– Denise Desjardins on teaching in Mistawasis
But many of the apps she used didn't allow her to include First Nations content.
"Then I thought, I've got to change the way I think on using these apps and adapting it to fit the needs of my classroom."
The school's new Cree language teacher became a mentor, helping her with the language and incorporating it into the apps. Now, the students will send video messages to their parents in Cree, and record radio broadcasts featuring news and weather reports that play each morning, as just some of the ways they use technology in the classroom.
As the kids are learning, Desjardins said she's been learning as well in the past year, to embrace her language and culture.
"My spirit was awakened, I was told that — because there's times when you're ready," she said, explaining that the children have helped her along, teaching her words as they go along.
"We're learning it together."
Students' grades and reading improve
The Premier Award hailed Desjardins' efforts, noting her students' reading ability is now reaching grade level, while one student's marks jumped from 47 per cent to 90 per cent after the year.
"Her dedication and passion for teaching is her gift and she is passionate about sharing it in her community," wrote a member of the Tribal Council, as part of her nomination for the award.
Desjardins currently commutes from Saskatoon to teach at Mistawasis, a 130-kilometre journey each way.
Desjardins said she has no desire to teach elsewhere, because of the connections and relationships she has with her students, many of whom are quick to hug her and call her with familiarity as "auntie."
"I don't think I'd be able to get that anywhere else," she said. "I just feel that's my home, and that's where I need to be."