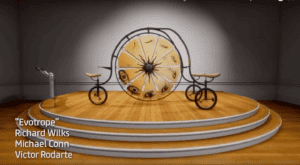 Despite hosting tens of millions of visitors annually, the Smithsonian remains inaccessible to anyone unable to physically make the trip to visit. That's why the Smithsonian American Art Museum is partnering with Intel to accelerate efforts in digitizing its 157 million-piece collection. It's first project will allow attendees to virtually wander the site of the annual Burning Man festival.
As part of the "No Spectators: The Art of Burning Man" installation at the Smithsonian American Art Museum's Renwick Gallery in Washington DC, patrons will be able to don VR headsets and visit the Black Rock Desert in Android Jones Deep Playa Experience. Back in the real world, visitors will be able to view everything from sculptures and art to costumes and jewelry that came from the festival. All without getting caked in the desert's infamous dust. The exhibit runs through January 21st, 2019.
This article originally appeared on Engadget.