Harbour Grace horse owner offering up his stallions to breed eligible mares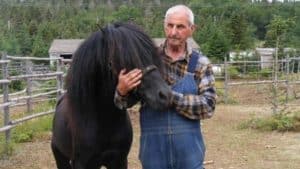 A horse owner in Harbour Grace is offering up three of his stallions in a free breeding program to increase the Newfoundland pony population.
"I'd like to see four or five hundred here," said Harrison Verge, who — along with his daughter — founded the Save the Pony project.
"The Newfoundland pony is a heritage animal … so we're trying to spread the word."
Verge, who owns six stallions, is willing to breed three of the older ones with eligible mares, if the owners can bring their animals to him.
He's fussy about his customers, though. The mares have to be registered Newfoundland ponies. In the end, he hopes to start some new bloodlines.
A workhorse in the past
Verge has owned one of the small, sturdy beasts since the 1940s, when he was a boy of seven or eight.
"The first one I can remember, I wasn't very big, it was a little mare called Nell," he told CBC Radio's On The Go.
"I used to lead her up and down the potato drills when we were plowing ground."
In those days, you couldn't survive without a horse. It was needed to plow the fields, haul wood and supplies, even for berry picking.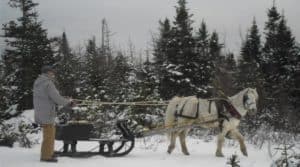 Animals were allowed to roam freely unless needed, Verge said.
"Only for the pony, we'd be lost. There were hundreds in Harbour Grace alone … and every other community around the island."
Verge said the ponies started to disappear as people switched to bigger horses and the animals were crossbred.
He realized just how scarce they were when his daughter asked for a pony of her own.
"I thought you could pick up one of these little buggers anywhere, but I realized you can't buy one."
'They're like children'
So, he travelled to northern Alberta to find a stallion named Admiral Shalloway, one of the first to be registered in this province. He's now 27.
"I still breed him. I have a foal that will be two years old in June, bred off him," Verge said. "He could live to be 40."
Verge acquired two other stallions, one from southern Ontario. He also has three two-year-olds, who he said aren't ready for breeding, and two mares, one of which is about to foal.
"They're like children. They're very, very quiet and they're very curious."
The Save the Pony project is in its early stages. If things work out, Verge said he will expand the number of bloodlines offered through Black Brooks Stud Farm.
Money's tight, though. He and his wife are living off their pensions so even though he doesn't charge for breeding services, they wouldn't turn down an offer of help.