Now that Toys R Us has rejected the $890 million offer from billionaire toymaker Isaac Larian to save the bankrupt toy giant's name, along with 274 of its stores, the demise of an iconic brand will be complete.
It represents a stunning fall for a company that still held a commanding presence in the toy marketplace. Toys R Us was the third largest toy retailer with some $7 billion in annual U.S. revenue — and the biggest online, with $1.7 billion in sales.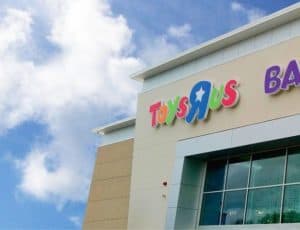 According to IBISWorld data, Toys R Us had a 13.6% share of all U.S. toy sales, behind Walmart (NYSE: WMT), which remains the leader with a 29.4% share, and second-place Amazon.com (NASDAQ: AMZN), which edged out Toys R Us with a 16.3% share.
That leaves a gaping hole in the toy market that will have to be filled by someone, but not all the winners will be so obvious.
The big will get bigger
The industry analysts at Coresight Research say that Walmart and Target (NYSE: TGT) are likely to be among those that gain the biggest share of Toys R Us customers, because among U.S. consumers who shopped at the toy store, about two-thirds also browsed for toys at the mass market retailers.
Although Amazon also had a similar percentage of Toys R Us shoppers browse its site, the analysts believe the e-commerce giant's toy sales are primarily "dominated" by Prime members, so it likely has less to gain from the Toys R Us demise. Coresight found that Toys R Us shoppers were much more likely to have bought toys from Walmart or Target in the past year than all other toy shoppers.
Even so, while toys are not exactly an afterthought for these retailers, they still add up to little more than a department in an otherwise larger operation. There really is no one left to fill the unique shoes being left behind by Toys R Us.
Blast from the past
Not that some aren't trying. KB Toys plans to relaunch its brand. Originally scheduled to be an online-only business, KB Toys says the demise of Toys R Us has it now planning for a bricks-and-mortar presence, too. Similarly, the formerly defunct FAO Schwarz plans to open a 20,000-square-foot flagship store in Rockefeller Center in New York City in time for the Christmas season this year. Interestingly, both KB Toys and FAO Schwarz where brands previously owned by Toys R Us before being sold to their current owners.
My colleague Dan Kline believes there's also an opportunity for Barnes & Noble (NYSE: BKS) to gain share in this space. Best known for books, it has also long been a retailer of specialty toys and games, and opening up its shelves to more mass-market toys could give it a wedge into the industry. Certainly this is a possibility, but like Walmart, Target, and other retailers, Barnes & Noble has no special knowledge or expertise in the space to allow it to make a grand entrance. It's just not a market it knows well, which means that another type of retailer that could make a pronounced move in the space faces the same kinds of hurdles.
Off the beaten path
Grocery stores are no longer able to live as single-purpose outlets. Kroger (NYSE: KR), for example, has been angling to make itself a place to shop for a more diverse assortment of goods, including apparel and hardware. Adding a toy section to its aisles could very well drive more traffic than some fashion statement or hammers and screws. Kroger represents a local retailer that its customers know well and visit often, and it could provide a significant counterpoint to the independent toy stores that are hoping to fill part of the void left by Toys R Us.
Not all supermarkets are predisposed to take advantage of the opportunity, but leading grocery chains like Kroger — which also has the Fred Meyer chain with its varied merchandise — and H-E-B, a similarly structured chain, could do well in the space. For Kroger, it might be a better use of the cash it raised from the sale of its convenience store business than the $1.2 billion it's planning on using for a stock buyback program.
In all probability, there won't be any one retailer that emerges victorious. The biggest existing players will absorb the bulk of the lost shoppers. But for some retailers that think outside the box, there appear to be niches of opportunity to play ball.