'When people are burning out in the profession, the access to services and programming can really lapse'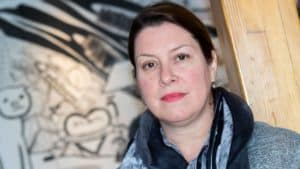 A new program aims to train Inuit as community support workers in Iqaluit and Ottawa to get more people into the field and teach them how to avoid burning out.
Nunavut is grappling with high employee turnover in the social work industry. Helen Roos, president of the ilinniapaa Skills Development Centre, says workers are often quitting within six months of being hired.
"It's a very difficult job," said Roos. "It's a very emotional job. There are many people who already come from a history of trauma themselves and may be retraumatized. The nature of people in pain can be very difficult to work with."
It's a very difficult job. It's a very emotional job.
– Helen Roos , president of ilinniapaa Skills Development Centre
Often these workers give up and move on to higher-paying jobs with the government, said Roos.
The drain in the North is having an impact on programming and services for the region's most vulnerable people.
"There is a lot of frustration both for employees and clients who come in," said Roos. "When people are burning out in the profession, the access to services and programming can really lapse."
Clients who have addictions or are dealing with trauma have trouble advocating for themselves. Their file can get shuffled around and in some cases they have to tell their story again to yet another person when a new community support worker is assigned to their case.
"It significantly impacts healing," said Roos. "The more people have to retell that story, people shut down. It is really retraumatizing."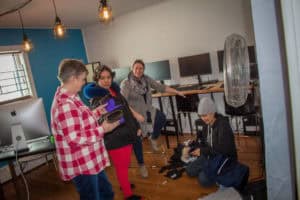 Students paid to attend
The centre is now partnering with Tungasuvvingat Inuit (TI) in Ottawa to offer training starting in September to help build the labour pool of community support workers and management trainees in the industry.
The two-year accredited training program is designed to remove barriers for Inuit to sign up.
Caleb MacDonald, the skills and partnership fund coordinator, says the courses are offered in both Ottawa and Iqaluit to prevent people from dropping out if they move cities.
"There's often a churn from Inuit between the two regions," said MacDonald.
The federal government is also paying for 50 students to take part. It's spending $4 million over three years with the bulk of that money going directly into student's pockets.
They'll receive pay for their time in class the first eight months and for their work placement with frontline organizations that spans over a year.
"Because we know those financial barriers can keep people from pursuing education like this," said MacDonald.
Finding the right fit
The courses are delivered online and in person. There are classrooms in both cities with learning coaches on hand to help with the course content and any challenges students are facing.
Roos says through self-assessment they are hoping to drill down the type of work students are passionate about. For some it may be outreach work, for others prevention or support and services.
"Once people find the right role and what's best for them, people aren't likely to leave after six months," said Roos.
The program will also teach students how to deal with the stress and emotional drain of the job with hopes they will make it a long-term career.