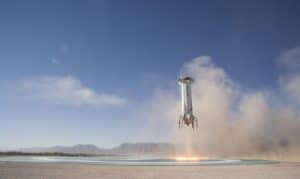 Blue Origin is gearing up for its eighth test flight, which also happens to be its first for 2018, on April 29th. Thankfully, it's one we'll be able to watch: Blue Origin chief Jeff Bezos has announced on Twitter that it's live streaming the event on Sunday. The company hasn't posted the stream's details yet, but you can expect it to go live around 8:30AM CDT (9:30AM Eastern) when the launch window opens.
The aerospace company's most recent flight back in December 2017 put the Crew Capsule 2.0 to the test for the first time. Blue Origin even stuck a test dummy in the capsule right next to one of its enormous windows — "the largest windows in space," the company said — before sending it 322,405 feet above ground level. Shortly after that flight, Blue Origin said it might be able to launch a manned mission this year "depending on how the test program goes."
We'll keep an eye out for the broadcast details, so make sure to check back for an update.
This article originally appeared on Engadget.