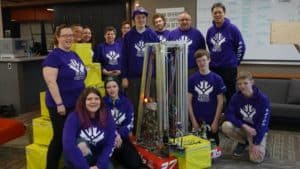 A group of Ottawa teenagers and their 45-kilogram robot are ready to take on the world.
Merge Robotics, a team of high school students from the west end of Ottawa, is on its way to Detroit for the FIRST Robotics Competition where they'll face off with their bot Mergio in '80s video game-inspired battles.
The team works with mentors in different fields — business, engineering, science — to build the robots for competition.
Kendra Shaw is a mother of one of the students on Merge Robotics and also serves as a mentor.
She told CBC Radio's Ottawa Morning the competition puts "quite a bit of pressure" on the high school students.
They have to figure out how to design and manufacture a working robot, all the while juggling real life, like exams.
"We're super proud of all of our students. It's amazing what they've accomplished."
Grade 11 students Abbey Dalton and Melissa Shaw, Kendra's daughter, are on the Merge Robotics business sub-team.
They're "pit presenters" who take questions and talk to people about the robot so the driving sub-team isn't distracted during competition.
The students have six weeks to create a robot from scratch.
They aren't allowed to touch their handiwork after those six weeks until competition takes place, so they built a second one named Luigibot to practise with.
"At the end of the six weeks you have to bag up the competition robot, but we want our drive team to have practice so we created a practice robot so that they can continue to learn how to use the robot," Dalton explained.
Luigibot also serves as a supply for spare parts in case something on Mergio goes during competition, she said.
"The driving itself is pretty straightforward," Melissa said.
"But the operating is extremely complicated and very challenging to master. I have a lot of respect for the driving team because they are able to drive very well."
'Blood, sweat and tears'
Kevin Lam, a mentor for students on the software sub-team, said the robot the students designed and built is realistic — not like a human, but like machinery you might see in an industrial setting.
"It encompasses a lot of principles that you'll find in the real world," he said. "Industrial forklifts work in the same principles. Lots of these bits and pieces are the same parts that you would find in industrial equipment."
The students went through many, many hours of wiring, testing and driving, Lam added.
"I see blood, sweat and tears, a lot of work that went into this. Students spent a lot of time designing it, making all the parts, sometimes re-making the parts."
Both Dalton and Melissa said they were excited when their group beat out the rest of Ontario's teams at a provincial competition to get a spot at the battle in Detroit.
"I was just really excited, I was shocked," Dalton said.
"When they announced it … our entire section of the stands exploded in noise. There was no thinking, it was just screaming," Melissa added.
Getting girls interested in STEM
While engineering and other scientific or hands-on fields tends to be dominated by men, the Merge Robotics team is trying to change that.
Shaw noted the team has reached out through Girl Guides, the Ottawa Public Library and other community efforts to get more girls involved.
She said about 30 per cent of both the team's mentors and the team itself is female, and there are girls on every sub-team who have the opportunity to do hands-on mechanics, programming and work on the business aspects of the project.
"Our students, male and female, have equal opportunities on this team," she said.
Melissa said it would be really nice to see more girls in the science, technology, engineering, and mathematics (STEM) field.
"There still might be a bit of a stigma with girls going to more delicate fields and guys going into more hands-on fields," she said.
"A girl might be more interested and leaning toward being a therapist than being an engineer because they think it would be more acceptable for them to be a therapist, because they think that because they're a girl that's kind of where their role is supposed to be."
Dalton agreed those stereotypes still exists, but don't have to.
"A lot of girls don't do technology, don't do programming," said said. "So through our programs like the STEM Girl Guide program … we're showing girls that they do have a place in STEM, that they can work in the [field]."