Investors in Amazon.com (NASDAQ: AMZN) have had plenty to be thankful for. So far this year, the stock has avoided the rout that has claimed a number of its tech brethren. It has gained 33% in 2018, crushing the performance of the S&P 500, which has been treading water so far this year.
Amazon stock had been trading even higher before a very public series of verbal attacks from President Donald Trump. In a barrage of recent tweets, Trump blamed Amazon for the state of the U.S Postal Service and said the company was harming the economy, among other things.
Amazon is scheduled to report financial results for the first quarter on April 26 after the market close. Let's look at some of the metrics investors will be watching.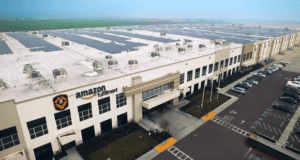 In a word … growth
After last quarter's stunning results, shareholders will be paying close attention to the company's year-over-year growth trajectory. For the fourth quarter of 2017, Amazon produced total net sales of $60.5 billion, up 38% year over year. This resulted in operating income of $2.1 billion, an increase of 69% over the prior-year quarter. These results blew past analysts' expectations and Amazon's own optimistic forecast for the quarter.
For the first quarter 2018, Amazon expects to post net sales between $47.75 billion and $50.75 billion, producing growth in a range of 34% to 42% year over year. This guidance assumes a favorable impact of about $1.2 billion from foreign exchange rates. The company said it expects operating income in a range of $300 million to $1 billion, compared to $1 billion generated during the same period last year.
Analysts are also expecting a solid quarter. Consensus estimates are for earnings per share of $1.25 on revenue of $49.88 billion, near the high end of Amazon's own forecast.
Amazon has been fairly consistent at meeting or exceeding the high end of its guidance, and there's no reason to think this quarter will be any different.
Keep a close eye on Amazon Web Services
The headliner last quarter was Amazon Web Services (AWS), the company's cloud computing segment, and its results will be closely watched moving forward. During the fourth quarter, revenue from the unit grew to $5.1 billion, up 45% year over year, while operating income of $1.35 billion grew 46% over the prior-year quarter. Even more impressive were the juicy operating margins of more than 26% — which is better than both of the company's e-commerce segments combined.
Competition in cloud computing has been heating up, and shareholders will be watching for any signs of slowing in AWS, which produced 10% of Amazon's revenue last year and all its operating income.
Forecast
Investors will also be dissecting Amazon's second-quarter guidance for indications that the growth story is intact.
In previous quarters when Amazon missed its own forecast or analysts' consensus estimates, investors have been quick to run for the exits, even when the miss was related to investments in the business and future growth potential.
That's just what happened in the second quarter of last year, when Amazon posted earnings of $0.40, missing analysts' estimates, and reported operating income that fell 51% year over year after the company made a number of strategic investments to increase its fulfillment and logistics capability.
Amazon has an astronomical valuation, with a trailing 12-month price-to-earnings ratio of about 250, and a forward valuation of roughly 170. Amazon will need to assure investors that its massive growth will continue unabated in order to validate its extravagant price.