Acquiring Indian online marketplace Flipkart isn't going to go smoothly for Walmart (NYSE: WMT). After making overtures to purchase a majority stake of the service and performing its due diligence, Amazon.com (NASDAQ: AMZN) was reportedly ready to make a competing offer for it, raising the specter of a costly bidding war.
While that seems to have come to naught, as no offer has yet materialized, a new speed bump appeared in the roadway in the form of eBay (NASDAQ: EBAY), which may require the retailer to work out a side deal with the auction site first as it is both an investor and partner in Flipkart.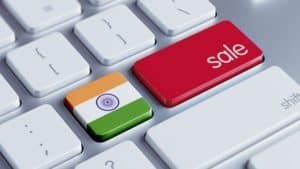 The best-laid plans
Recode reports eBay invested $500 million in the marketplace platform last year, which gave it a 5.44% ownership stake in the business. As part of the deal, Flipkart got control of eBay's India operations. Microsoft and Tencent also invested at the same time, allowing Flipkart to raise some $1.4 billion.
The deal was to help make eBay's inventory accessible to Indian consumers, while also giving eBay's buyers access to Flipkart's merchandise. The problem is that eBay also entered into "an exclusive agreement in which they will jointly pursue cross-border trade opportunities," which Recode reports runs for four years and may include all merchandise except groceries. In an interview with Recode at the time, eBay CEO Devin Wenig said it was that aspect of the deal that he was "most enthusiastic about."
No good alternatives
That becomes a big problem for Walmart if it ultimately gains the majority stake because it may not be able to negotiate for merchandise deals with Flipkart since the eBay agreement is exclusive. It means one of two scenarios would likely have to play out: either Walmart bides its time and waits for the agreement to expire in about three years, or it has to negotiate a settlement with eBay first. Neither is optimal. One allows Amazon to continue growing unchecked in the country. The other option raises the costs of the Flipkart deal, which is rumored to already be valued at $12 billion.
Amazon.com also views India as a key growth market after the U.S. and China, and has committed to spending $5 billion in the country to grow its business there. Estimates find that Amazon has narrowed the gap significantly between itself and Flipkart to just a few percentage points of market share, though it widens a bit when including the Indian site's apparel labels.
Even so, Walmart not being able to market merchandise with Flipkart because of the eBay agreement would allow Amazon to continue its breakneck growth trajectory. So, if Walmart pursues this acquisition, it's likely in Walmart's best interest to cut a deal with eBay, which also has the right to take back control of the eBay India operations if Flipkart were to be acquired.
A huge opportunity
Forrester Research pegs online retail sales in India hitting $64 billion by 2021, for a five-year compound annual growth rate of better than 31%, making it the fastest-growing online market in the world. At that pace, the Indian Brand Equity Foundation says the Indian e-commerce market is poised to reach $200 billion by 2027.
After Amazon's failure in China, it can't afford to lose in India, too. But neither can Walmart allow its rival to gain an unfettered advantage. eBay has certainly put Walmart in a tough position.