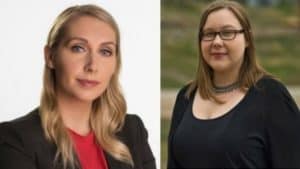 CBC Ottawa took home three top prizes at the Radio-Television Digital News Association of Canada awards Saturday for its live coverage, radio newscast and digital journalism.
The station garnered three awards and six nominations for 2017 in the central region, consisting of news outlets in Ontario and Quebec.
The national association, which honours the best in journalism for each region of the country every year, honoured media outlets at an awards ceremony in Toronto.
Excellence in innovation
CBC Ottawa's Ashley Burke received the association's first-ever excellence in innovation award for her online story A Heartbeat Away, which helped bring to light the absence and inaccessibility of defibrillators in Ottawa schools.
Burke told the tragic story of an eight-year-old boy whose heart stopped beating during recess one day in late February of 2017. His school, Orleans Wood Elementary, did not have a defibrillator on site.
Radio, Television
CBC Ottawa was also honoured with the Gord Sinclair award for its supper-hour Canada Day 2017 special, which was carried live from Sparks Street on television and on Facebook.
Reporter Elyse Skura was honoured with the Byron MacGregor award for having the best radio newscast.
The local station was also nominated for six awards in breaking news coverage, city affairs analysis, video, podcasts, diversity journalism and television newscasts.
CBC Ottawa's Our Ottawa team also received a separate award Friday from the Registered Nurses' Association of Ontario for their in-depth television feature on sickle cell disease. Adele Cardamone-Martel, Adrian Harewood, Emilien Juteau and Gerry Buffet contributed to the feature.