Action plan includes providing more resources for small businesses, revamping city's commercial arteries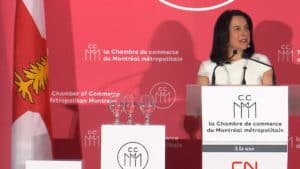 For the first time since being elected, Montreal Mayor Valérie Plante formally addressed Montreal's business community, arriving with a promise — to spend $360 million in over the next four years to bolster Montreal's economy.
In her speech to the Chamber of Commerce of Metropolitan Montreal, Plante stressed the need to better integrate immigrants and retain highly skilled workers in order to ensure Montreal maintains its healthy growth of recent years.
"We have to work with the talent we have here.… but we also have to speak about the retention of talent," she said.
"We have to work in concert with local actors, such as institutions of higher learning and businesses. But there also is an element we shouldn't forget: Montreal distinguishes itself internationally by its quality of life. We have to take care of that and strengthen it."
Plante said the city's workforce is aging, and that could lead to chronic labour shortages.
She promised the city would do more to help small and medium-sized businesses (SMEs) benefit from emerging industries, such as artificial intelligence and big data.
The city will hire around 30 more people to help SMEs take advantage of economic opportunities, Plante said. As well, it will find ways to help more people start their own businesses, especially women and immigrants.
Revitalizing commercial streets
Plante said as much as a third of the promised money will go toward projects to clean up industrial areas and revitalize existing commercial arteries, including Ste-Catherine Street.
Plante will release the details next week of how the city intends to revamp that street, but she offered some hints Thursday.
"I want to make it a destination, where the shopping experience will stand out, somewhere where people will want to go," she said.
Michel Leblanc, the president and CEO of the chamber of commerce, said he likes what he heard so far but is waiting for more details.
"The question remains: what are the action plans?"
"It's going to require a few more weeks to see where the city wants to act and in what way," he said.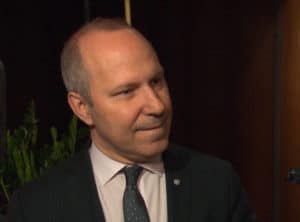 Building bridges?
During last fall's mayoral campaign, a lot of business people supported Plante's rival, incumbent mayor Denis Coderre.
They feared Projet Montréal's emphasis on issues like the environment and public housing meant it would be unsympathetic to their needs.
Those concerns were amplified when her administration broke a campaign promise in its first budget and raised non-residential property taxes three per cent, well above the rate of inflation.
The chamber of commerce had called that move a "disturbing signal."
So Plante's appearance was also a bridge-building exercise — an effort to win more support for her ambitious plans for the city.
She began her presentation with photos and anecdotes of her father, who turned a school bus into a mobile store to support the family in Rouyn-Noranda.
"I see these same qualities each time I meet entrepreneurs and those who have Montreal's economic development at heart," Plante said.
Her administration's economic plan outlined a number of challenges facing the city: a labour shortage, low productivity, limited venture capital and the need to boost the activities of Montreal businesses abroad.
Over the coming months, Plante said, the city will release further details about how to foster growth in five specific sectors of the economy: cultural and creative industries, life and health sciences, the digital economy, transport and mobility, and clean technology.