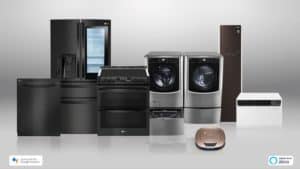 LG has officially joined the ranks of appliance makers that support more than one voice assistant. The electronics giant has announced that its current collection of ThinQ-branded appliances now takes commands from both Amazon's Alexa and Google Assistant. The amount of control you'll have will vary, of course, but there are common elements: you can make ice in your fridge door, turn off the oven or cool down with your air conditioner.
This isn't the first company to officially support more than one voice assistant, but those brands are still few and far between. LG is certainly one of the largest given its international scope. And frankly, it's good to have smart appliances that give you choices for voice commands. When you're likely to own an appliance for a decade or more, you don't want to be locked into a single AI helper that might be rendered obsolete.
This article originally appeared on Engadget.