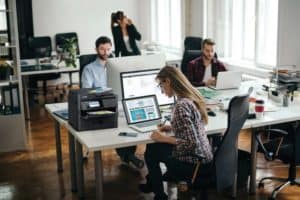 Epson's refillable, eco-friendly print cartridges just got smaller, but the compact form of the ink EcoTanks still allows the company's new all-in-one to ship with two years of ink in the box. On Tuesday, April 17, Epson announced the WorkForce Pro ET-8700 EcoTank All-in-One, a printer designed for small businesses.
The new WorkForce Pro has enough ink in the box to print up to 16,000 black-and-white pages and 11,00 color pages, which means businesses averaging 450 sheets a month may not have to buy ink for two years. The printer uses a set of four ink packs, which Epson says is more affordable than the traditional cartridge. The printer packs start at $25.
The printer isn't the first to integrate Epson's cartridge-free concept, but uses the smaller Replaceable Ink Pack System. Compared to ink and toner, Epson says, best-case scenario, the ink packs can save up to 80 percent over the cost of traditional ink cartridges and toner for a color laser printer.
Compared to the earlier model, the ET-8700 is more compact, at about 40 percent of the size of the previous generation model. The printer still offers a 250-page capacity and an 80-page rear tray, with the option to buy a 500-page tray add-on.
Epson says the new printer also delivers on speed, with prints speeds of up to 24 pages per minute, and scans also reaching that speed using the USB interface. Print settings and options are controlled from a 4.3-inch touchscreen.
"With the new low-cost replacement ink packs integrated along the base of the ET-8700 printer, we've taken Epson's traditional EcoTank design, and optimized it for high productivity," Nils Madden, marketing director for consumer marketing at Epson America, said in a press release. "We've made it easier for business owners to enjoy the hassle-free two years of ink in the box with this new, easy-to-use design and ultra-fast print speeds, giving them more time to focus on what's really important — managing their businesses."
The ET-8700 also offers Wi-Fi and Ethernet connectivity, and sells with a two-year limited warranty.
The WorkForce Pro ET-8700 printer will launch sometime this month with a list price of about $1,000.