'All of a sudden we saw a piece of orange and we knew that was her backpack'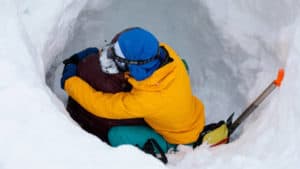 When Calgary skier Tim Banfield set out into the back country near Lake Louise last week, he had no idea of the harrowing ordeal that awaited him and his two friends.
The experienced trio had spent many days this winter exploring the mountains, and this day had started just like any other.
But just as they were about to reach the top of their first slope near Sentinel Pass, the worst-case scenario unfolded in the blink of an eye. "Everything kind of cracked and there was an avalanche," Banfield, who is also a photographer, told the Homestretch on Friday.
After realizing he was out of harm's way, Banfield looked behind him, frantically searching for his two friends, who had been following about 30 metres behind.
One, he could see, but the other — last in line — had vanished underneath the unknown depths of snow.
"I just watched them until it came to a stop and then ended up falling down that face, basically, to get to the person I could see and then we started to go to the person that was buried."
Buried four metres deep
Their adrenaline pumping, the pair — who had training in avalanche preparedness and were carrying shovels and probes — pulled out their beacon to try and locate their friend in the field of white.
"Initially it said 35 metres, 20 metres, we were moving closer toward her," he said. "And then, just the way you move around, you can figure out that it's a vertical distance, so we saw four metres, and I kind of know the stats surrounding what that means. We were basically like: 'she's dead.'"
Fearing the worst, the skiers followed their avalanche training, piercing the snow with their probes in an attempt to make contact with their friend. Initially they came up empty.
"So we did that, didn't find her, but that's because the probe wasn't long enough," Banfield said.
"So we dug down some snow, got closer to her, probed again and we had a probe strike. It hit something, we didn't know it was her, and we just started digging frantically, basically, for the next 15 minutes.
"At the time I was just hoping it was her. We're digging down, we don't know if it's the rock or the ground, it's quite deep. And then all of a sudden we saw a piece of orange and we know that was her backpack."
Racing against time and still unsure whether their friend was alive, they tried to gauge the location of the buried woman's head so they could clear an airway for her.
Thankfully, she was alive.
Unable to call for help
"She was making noises, I wouldn't necessarily say she was communicating," said Banfield.
"But then after about five minutes, after we got a warm coat on her and we were there for a while, she was able to tell us that she wasn't injured — although we didn't believe her at the time but she was able to communicate that."
What happened next, Banfield says, is "a bit fuzzy," but he estimates it took the pair another two hours to get their friend out, unable to call for help until they could unearth the satellite communication device that was in her backpack.
"Once we established that she was alive, got her an airway, one of our first priorities was to get that device out and kind of sound an S.O.S."
Meanwhile, Banfield says he kept his friend calm by telling her to imagine that she was vacationing on a beach in Hawaii.
"We just tried to keep her warm and explain to her that, 'look, we got to you, basically the only thing that's going to kill your right now is if you die of hypothermia, so we just need you to stay warm,'" he said.
"'We'll do the digging and you stay warm.'"
'She walked away'
Finally, they managed to free the woman, who was miraculously unscathed.
"She walked away," Banfield said. "She actually was totally fine and got in the car and drove home with us at the end of the day."
In hindsight, Banfield says that although they checked the avalanche bulletin that morning, the trio could have been more cautious. "We could have read the avalanche bulletin a bit more in detail. There was a hint that that might happen. But there were other experienced parties skiing in the same area, so, you never know sometimes."
Banfield said he plans to do more due diligence the next time he ventures into the back country, but the close call won't stop him from continuing to explore the Rocky Mountains.
As for his rescued friend, Banfield says the experience hasn't dampened her enjoyment of the back country at all.
"She's out skiing today."