Games would be the largest multi-sport event ever held in Nova Scotia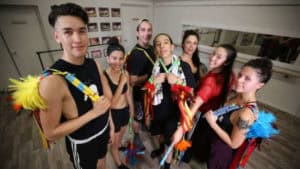 The Nova Scotia government is committing $3.5 million in support of a bid to attract the 2020 North American Indigenous Games to Halifax.
The Mi'kmaq Sport Council of Nova Scotia is behind the effort to host the games, which include more than 5,000 Indigenous participants in 15 events.
A site visit took place this week and if successful the games would be the largest multi-sport event ever held in Nova Scotia.
Leo Glavine, minister of Communities, Culture and Heritage, said hosting the games would provide an opportunity to further develop a more respectful and committed relationship with Indigenous communities across North America.
The North American Indigenous Games Council, which operates the games, will decide on the 2020 host location after final presentations in early May.
The games would include a large cultural village and a variety of cultural performances over eight days.
"It is time for our province to host this prestigious event, highlighting our Mi'kmaq culture to North America," said Chief Norman Bernard of Wagmatcook and president of the Mi'kmaq Sport Council.
Halifax Mayor Mike Savage says the games would strengthen relationships with Indigenous communities.
"Hosting the 2020 [games] will not only bring cultural, spiritual and traditional values of the athletes to Halifax, it will boost significant economic growth," he said.
Glavine also noted the lasting impact the games could have on Nova Scotia.
"The 2020 North American Indigenous Games would bring significant economic and social opportunities to our province, leaving a lasting legacy of development and growth for our Indigenous people," Glavine said.