The automotive industry looks more like the Wild Wild West than ever before. Automakers are developing ridesharing projects, Silicon Valley tech companies are developing driverless technology, and auto dealership groups are developing online selling platforms. Even Avis Budget Group, Inc. (NASDAQ: CAR) has to be commended for its forward-thinking strategy acquiring Zipcar and inking partnerships with the likes of Alphabet's Waymo, its autonomous car development company. Avis' recent move is a smart decision, but General Motors (NYSE: GM) might end up crashing the party.
Deal inked with Toyota
On Monday, Avis announced a multi-year deal with Toyota (NYSE: TM) that will add 10,000 vehicles to Avis' fleet of connected vehicles. The benefit for Avis is using Toyota's vehicles to improve informatics, fleet management, and operational efficiency. In other words, as Avis transitions from its historical rental business to an information and fleet management as a service (FMaaS) business, more information from partners like Toyota's proprietary Mobility Services Platform (MSPF) will be critical to figuring out how to develop a lucrative business model.
"We're a step closer to a fully connected fleet and ultimately moving toward a new future for our business." said Arthur Orduna, executive vice president and chief innovation officer, Avis Budget Group.
It goes hand-in-hand with Avis' prior partnership with Alphabet's Waymo, which gave Waymo's self-driving fleet access to Avis' network of store locations in the Phoenix area for maintenance and fleet support. If the business model switches from consumers renting from companies such as Avis, one of management's options is to adapt its business model to generate revenue from maintaining fleets of driverless vehicles or fleets of rental vehicles owned by ridehailing or ridesharing services.
Will Avis' idea work?
On paper, Avis' idea is great and certainly has merit as entire fleets evolve toward driverless vehicle technology and consumers further adopting vehicles as a service. However, General Motors (NYSE: GM) is reportedly working on a slightly different business model that could offer a compelling substitute product for consumers.
According to Bloomberg, GM is piloting a program this summer that will offer consumers a platform to rent out their vehicles when they aren't in use, although details aren't yet official. The test will almost certainly run through GM's smart mobility brand, Maven, and could turn into a full adjacent business if it gains traction.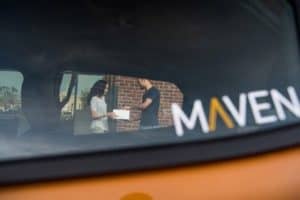 The main differentiation between this new project and Maven's current ridesharing programs is that GM owns the vehicles in the current program, and it puts the fleet maintenance on the automaker to complete — done itself, or through fleet management services such as Avis. However, GM's platform will reportedly connect users to one another for vehicle rentals and split the revenue generated from the transaction. That will enable GM to avoid owning the cars in the transaction, which should allow the program to expand very rapidly without adding to its balance sheet.
Just like Airbnb doesn't want to own tens of thousands of properties to run its business, GM doesn't want to own those vehicles in a similar, and potentially lucrative, scenario. And consumers on the earning side of the rental equation could find some extra cash when an otherwise idle car only cost the consumer. The consumer on the purchasing side of the equation could find it more convenient location-wise if enough vehicles were available scattered in more areas than a rental service could offer in locations.
Avis should be commended for thinking ahead with its acquisition of Zipcar, and its partnerships that enable its business to transform from pure rental services to fleet management as a service, and maintenance. But General Motors' platform and peer-to-peer business model could provide a backbreaking substitute service — after all, if consumers renting cars to one another catches on, ridehailing and fleet management will be less necessary. Investors should recognize with the capital and reach of juggernaut Detroit automakers, and the tech savvy Silicon Valley companies developing driverless technology and other services, it's going to be very difficult for businesses such as Avis to adapt in the years ahead.