Oil stocks have performed miserably in the recent past. Most have declined in the last year even though crude is up nearly 25%. That underperformance in the face of an improving oil market has worn out investor patience, leading a growing number of activists to push oil companies to do something about it.
Growing vocal and getting results
Energen (NYSE: EGN) was among the first oil and gas companies to become a vocal target of an activist investor. Corvex Management, which owns 9.9% of its outstanding shares, has been pushing the company for more than a year to make changes to its board or put itself up for sale. Driving that desire is its view that Energen "has a world-class leasehold position in the core of the Permian Basin, but for years, has traded at what we believe is a material discount to its underlying value." While Energen resisted those overtures in the past, mounting pressure by Corvex drove the company to a recent agreement where it appointed new board members and would conduct a review of its business, including "potential strategic alternatives."
Activists have also targeted Canadian oil producer Obsidian Energy (NYSE: OBE). The company had waged a public war of words with one of its largest shareholders, FrontFour Capital Group. Obsidian initially resisted FrontFour's calls to sell off assets and aggressively shift its drilling program to its highest return area. However, the company recently announced plans to put some of its non-core properties up for sale and use the proceeds to accelerate growth in its core area as well as buy back shares and pay off debt.
Carrizo Oil & Gas (NASDAQ: CRZO), meanwhile, has become the latest target of activists. In this case, Kimmeridge Energy Management boosted its stake in the company from 4.9% to 8.1%, giving it a bigger say in the company's future. It wants Carrizo Oil & Gas to undertake many of these same actions by selling off one of its assets and using the proceeds to pay off debt, buy back stock, or invest in its other core area. Though, Kimmeridge also thinks Carrizo should explore merging with a rival to increase its scale.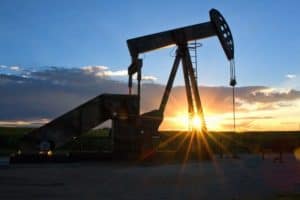 A successful formula
The reason we're seeing activists press companies to sell assets and use the cash to pay down debt and buy back stock is that this formula has proven to be very successful in fueling outperformance for other oil stocks in the recent past. The trailblazer of this approach was U.S. oil giant ConocoPhillips (NYSE: COP), which announced plans to jettison up to $8 billion of assets in November of 2016 so it could buy back stock and pay off debt. ConocoPhillips would go on to sell more than $16 billion in assets since that time; it has already repurchased $3 billion in stock and expects to buy back another $2 billion this year. These moves have proven to be quite the catalyst for ConocoPhillips' share price, which is up more than 35% over that timeframe even as many rivals have lost value.
Hess (NYSE: HES) took a similar approach last year by selling off $3.4 billion of non-core assets. In November, Hess announced plans to use some of those proceeds in buying back $500 million in stock and paying off $500 million in debt. The company would go on to add a $1 billion to the buyback authorization last month. Those moves have injected life into Hess' stock, boosting it nearly 20% over that timeframe, whereas most rivals have lost value.
Activists are hoping for similar results from Obsidian, Energen, and Carrizo as they push those companies to follow these value-enhancing blueprints. If they're successful, more investors will likely push companies to make similar changes.
Activity is heating up
Last year was an odd one for the oil industry as stock prices declined even as crude rebounded sharply. That underperformance is driving an increasing number of activist investors to agitate for change. If those moves work as well as these investors hope, it could be the catalyst for others to follow their lead, causing activity and oil stock prices to heat up in 2018.