Staying on top of the latest technology trends isn't exactly easy. New tech emerges at a rapid pace; what it all does — let alone how companies might benefit from it — can be hard to figure out.
To help you understand some of the biggest trends out there right now, let's take a closer look at wireless 5G, the Internet of Things (IoT), and augmented and virtual reality. Each has the potential to revolutionize a corner of the technology market. So it's important to have a basic grasp of each new technology, who some of the big players are, and how big each market is.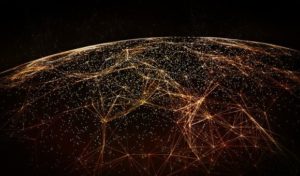 5G
Companies have been talking about 5G for several years, but the tech really started making headlines last year. That's because industry giants Verizon Communications (NYSE: VZ) and AT&T (NYSE: T) are conducting 5G tests in a handful of cities this year, and the new wireless standard could have huge implications.
A lot of discussion around 5G focuses on two different types of connections: mobile and fixed wireless. The best example of a mobile wireless connection is, of course, your smartphone. Mobile 5G has the potential to deliver speeds up to 10 times faster than current LTE connections. A fixed wireless 5G connection refers to wireless signals that are sent to homes or businesses; these 5G connections will be more reliable and much faster than the average U.S. broadband connection. Verizon says that it wants to deliver consistent 1Gbps fixed wireless services through 5G, and that its total addressable market in the space is about 24% of the U.S. broadband market. Widespread rollouts of 5G, for both mobile and fixed wireless services, aren't expected until 2020.
It's also worth pointing out that the U.S. isn't leading the 5G revolution. China Mobile (NYSE: CHL) is currently conducting one of the largest 5G tests in the world right now, and China-based Huawei already owns about 10% of essential 5G wireless patents. Worldwide infrastructure spending for 5G could reach nearly $34 billion by 2026.
The Internet of Things
The Internet of Things (IoT) is another huge development with the potential to change nearly every industry, by bringing formerly unconnected things — think cars, parking meters, manufacturing equipment, and more — online. You may be wondering why all of these things need to be connected to the internet. The answer is that companies, cities, and consumers can extract plenty of beneficial data from devices by adding sensors and a wireless connection.
For example, the IoT will have the biggest economic impact on the industrial sector and manufacturing, because it will allow companies to manage how their equipment is performing and when it needs to be serviced, and to catch problems before they arise. Companies will be able to perform preventive maintenance on equipment, keeping production running efficiently and saving on costs generated by excessive machinery downtime.
Of course, it's not just manufacturing that will benefit. More than 20 billion devices will be connected to the Internet by 2020, and companies such as Skyworks Solutions (NASDAQ: SWKS) are using semiconductor and connectivity chips for everything from smart-home devices to connected vehicles. Skyworks earns just 25% of its revenue from its "broad market sales" segment (which includes IoT sales), but it's a perfect example of how companies are taking existing technologies for mobile and repurposing them for the IoT. The Internet of Things will create more than $11 trillion in total economic value by 2025, according to a recent McKinsey report.
Augmented and virtual reality
Augmented reality (AR) and virtual reality (VR) are often lumped together because they have some overlapping features. The basic difference is that AR is the overlaying of information or graphics onto the real world, while VR is a completely computer-generated experience.
Facebook (NASDAQ: FB), Apple (NASDAQ: AAPL), and Alphabet (NASDAQ: GOOG) (NASDAQ: GOOGL) all took some big steps forward in AR and VR last year. Facebook introduced new augmented-reality features in its apps, and is about to launch a mobile virtual-reality headset (which doesn't require a PC) through its Oculus company later this year. Apple added AR functionality to iOS so that new apps could be created specifically for augmented reality. Google updated its Daydream View headset, and continues to build out its VR app platform.
While AR and VR have had their share of fits and starts, both technologies are expected to grow quickly in 2018 and over the next few years. New data from IDC shows that worldwide AR and VR headset shipments will reach nearly 69 million units by 2022, and that there will be 12.4 million units shipped this year, a 48.5% increase from 2017. Spending on AR and VR devices and services is expected to skyrocket from just $11.4 billion last year to $215 billion by 2021.
Keep in mind that none of these tech trends are proven winners; some, especially AR and VR, have yet to show that they have staying power. But companies are beginning to build stable foundations for these technologies that could benefit them, and their investors, for years to come.