The chronic liver disease nonalcoholic steatohepatitis (NASH) is supposed to be Gilead Sciences' (NASDAQ: GILD) next hepatitis C — a disease that doubled Gilead's sales almost overnight. The company has three drug candidates to treat NASH in its pipeline, including selonsertib, which is in phase 3 development with data expected in 2019. With an estimated 3% to 12% of adults in the U.S. having NASH and there being no approved treatment, NASH is a multibillion dollar market ripe for the picking.
But Gilead and its investors had better keep an eye on a deal announced this week between Regeneron Pharmaceuticals (NASDAQ: REGN) and Alnylam Pharmaceuticals (NASDAQ: ALNY).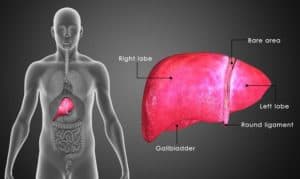 Regeneron's discovery
Through its Regeneron Genetics Center, Regeneron has been sequencing patients' genomes looking for variations in genes that are associated with diseases. It can work both ways — a variant might cause a disease, or the variant might reduce the likelihood of the disease.
The latter is the case for liver disease. Regeneron found a variant in the HSD17B13 gene that is associated with reduced risk of various chronic liver diseases such as NASH. Specifically, people with mutations in both copies of the HSD17B13 gene that made it nonfunctional had a 73% lower risk of alcoholic cirrhosis and 49% lower risk of nonalcoholic cirrhosis compared to people with two functioning copies of the gene. People with the mutation also had a reduced risk of NASH.
With the knowledge that people with a mutated form of the gene are healthier, the question then becomes how to inhibit the function of the resulting protein to treat NASH patients.
Enter Alnylam…
Alnylam's technology
Alnylam's specialty is in RNA interference (RNAi). Genes on DNA are transcribed into RNA, which are then translated into proteins that do most of the work in cells. Most drugs inhibit or activate proteins by binding to them, but RNAi works at the RNA level, degrading the intermediary between DNA and the protein. With lower levels of RNA, lower levels of protein are made.
RNAi seems like the perfect application for reducing the level of HSD17B13 protein, especially since RNAi molecules appear to work especially well on RNA expressed in the liver.
Alnylam, in a partnership with The Medicines Company (NASDAQ: MDCO), is working on a similar situation for high cholesterol. Researchers discovered that mutations in a gene called PCSK9 result in patients with low LDL-cholesterol (that's the bad kind). Regeneron and others decided to inhibit the protein with an antibody, resulting in Praluent, which was approved by the FDA in 2015. Alnylam and The Medicine Company's inclisiran is still in phase 3 development, but inclisiran might only need to be dosed every six months, allowing it to compete with Praluent and Repatha, another antibody PCSK9 inhibitor from Amgen.
The deal
The tie-up this week is pretty vague with Regeneron contributing its research on the HSD17B13 gene target and Alnylam agreeing to use its RNAi technology to identify drugs that can knock down the target. But in the statement, the companies said they plan to set up a 50-50 collaboration to develop and commercialize drug candidates found in the discovery efforts.
Gilead impact
It's hard to know how much Gilead should be concerned about the discovery of HSD17B13 and this partnership. Gilead clearly has a substantial lead with its compounds already in the clinic, but there's a genetic basis for targeting HSD17B13, which should make the strategy more likely to succeed.
Of course, it's possible that an RNAi targeting HSD17B13 might slow the progression of NASH but not stop it completely, promoting the use of combinations with Gilead's drugs just like patients taking PCSK9 inhibitors also take statins to further control their cholesterol.
Gilead and its investors should clearly be watching this partnership, but overall it doesn't seem like a reason to be overly concerned about Gilead's potential in NASH just yet.