Osmond's upset win Friday night at worlds in Italy makes her first Canadian woman champ in 45 years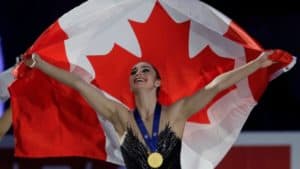 Kaetlyn Osmond stunned the skating world Friday evening in Milan when she unexpectedly became the first Canadian woman in 45 years to win the world figure skating championships — just weeks before the small Newfoundland town where she grew up hosts her for a skating event.
Osmond won the world title with a near-perfect skate, after going into the final round in fourth place. After rough performances from tournament favourite Alina Zagitova of Russia and Italy's own Carolina Koster, Osmond shot to the top of the podium.
Following her bronze medal at the Pyeongchang Olympics, it was already going to be a big deal to see Osmond perform at a special event on April 14 at the arena that bears her name in Marystown, where she first laced up her skates and started in the sport.
But Friday's win now means the blue collar shipbuilding town of about 5,000 on Newfoundland's Burin Peninsula can come together and rally around the best in the world — one of their own.
Inspiration for Marystown skaters
Nowhere is that sense of pride more palpable than within the local Marystown skating club.
"Our skaters right now are so excited for Kaetlyn to come," said club president Jackie Fewer.
"As you can image those at such a young age, say at four years old, they're looking at Kaetlyn coming into our arena and knowing that she started at this arena and look at all of her accomplishments she had up to this point. It's amazing, it's just amazing."
In addition to her Marystown visit, Osmond is also set to perform in St. John's, Grand Falls-Windsor and Corner Brook.
Osmond's brother Gary was closely following Friday's coverage of the world championships, texting back and forth with his parents, who were in Italy with his sister.
He said with her in fourth place in the standings heading into the last round, they were hopeful for a repeat of last year's championships, when she placed second.
"We were kind of thinking right up to the end, 'maybe a silver medal again this year,' so when we heard gold it was just a fantastic surprise," he said. "She defied the odds and showed us all she's got the gold. I'm incredibly proud of her."
Raising the bar
Gary said with his sister's almost flawless Olympic and world championship performances — and the hardware to match it — people can now proudly point to Marystown on a map and say 2018's top woman figure skater grew up on its foggy streets.
"She's been the Canadian champion I believe three times so that already was an amazing feat," he said.
"But to be world champion, and 45 years since we had a Canadian in that position? She keeps raising the bar and making us all proud. It's amazing."