There are exciting developments in multiple subsectors of the technology industry. But some companies struggle continually, others have lots of promise but just can't deliver, and just a few appear poised for more growth.
As I read about these tech companies, the two stocks that repeatedly make it on my list of companies I'd never buy are Snap (NYSE: SNAP) and Fitbit (NYSE: FIT); one company that I'd consider is Skyworks Solutions (NASDAQ: SWKS). Here's why.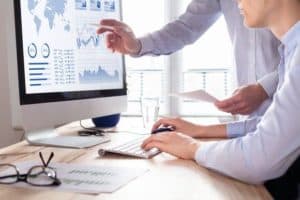 A social-media stock long on volatility and short on viability
I once thought Snap's Snapchat app was a new and original way to communicate through social media. But that opinion changed pretty quickly as Facebook (NASDAQ: FB) swooped in and began copying some of Snapchat's core features.
Not only has Facebook taken Snapchat's serial Stories feature and put a similar version on its own platform, but it's also done the same thing with its Instagram app — and with stunning results. Facebook's Instagram launched its own Stories feature in August 2016, and within eight months, the number of people using it exceeded that of all Snapchat's daily active users.
Snap is coming off of a strong quarter in which revenue popped 72% from the year-ago quarter, to $285.7 million, and non-GAAP (generally accepted accounting principles) net loss per share came in at $0.13. Each of those results outpaced Wall Street's estimates and sent the company's stock climbing. But one good quarter doesn't make up for Snap's fundamental problem: It can be easily copied. Facebook's determination to take Snap down — and the ease with which its app can be cloned — leave this company very vulnerable.
Adding that Snap's shares can lose 7% of their value just because Kylie Jenner sends out a tweet putting down the Snapchat app, it becomes crystal clear why I'm keeping far away from this social-media stock.
The wearable tech play that's all worn out
There was a time, not that long ago, when Fibit looked like a no-brainer buy. The company was the leader in wearable tech devices; it was snatching up smaller players like Pebble to build out its wearable strengths; and it got out ahead of the wearable market even before big tech companies made their moves. My, how things have changed.
Just this month Apple (NASDAQ: AAPL) officially overtook Fitbit as the No. 1 worldwide shipper of wearable devices. Fitbit's declining device sales had been been a harbinger of a coming shift, but making it official is still a big blow to Fitbit.
The company's CEO, James Park, recently did an interview with TechCrunch and said that the company is pivoting more toward the healthcare industry, though it'll still make consumer devices. He called healthcare an "untapped revenue stream," but it feels more like Fitbit is scrambling to find a viable market to sell its devices to.
Maybe it could work, but the new focus on healthcare reminds me too much of when Jawbone said last year that it was moving toward healthcare devices and away from the consumer market…and then went out of business. Plain and simple, Fitbit is becoming a slow casualty of the Apple Watch. Apple doesn't need people to love its Watch or to be excited about wearable devices. It just needs to slowly and continually outsell Fitbit to put nails in its coffin — and I think that's already starting to happen.
An Internet of Things play to connect with
Now it's time to look at a tech company that's growing its core business and expanding into new markets. Skyworks Solutions makes semiconductors — amplifiers, filters, and connectivity chips — for mobile and Internet of Things (IoT) devices. While the company makes about 40% of its total revenue from sales of chips to Apple, Skyworks is quickly expanding its tech reach.
Being so reliant on Apple isn't the best situation, I'll admit, but Skyworks appears to be diversifying its revenue sources. In its first-quarter fiscal 2018, the company grew sales in its "broad market" segment — which includes hardware for smart speakers, connected vehicles, and smartwatches — and that business now makes up about 25% of the company's top line.
Skyworks should be able to benefit from the growth of IoT devices in the coming years, as the market expands from about 11 billion devices this year to 20 billion by 2020. The company already claims Alphabet's Nest and Amazon as customers for connected home devices, and Hyundai for connected cars. As it adds IoT customers, Skyworks is positioning itself to benefit as the Internet of Things grows into a $1.4 trillion market over the next three years.
Skyworks' shares also trade at just over 13 times forward earnings, and the company has no debt. Its small size and early bet on the IoT means it's likely to see more volatility ahead, but if it can continue growing its IoT business and balance out its dependence on Apple, then Skyworks could end up being a solid long-term IoT play.