Janeshia Adams-Ginyard plays a member of the Dora Milaje in the Marvel Comics film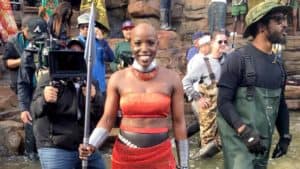 Much like the character she plays in the blockbuster movie Black Panther, Janeshia Adams-Ginyard knows about staying strong in the face of adversity.
The Los Angeles-based actress plays a member of the Dora Milaje in the Marvel Comics film that has broken the $1 billion mark at the box office — and she was also stuntwoman for Danai Gurira, who plays Okoye.
In the film, the Dora Milaje are a group of female special-forces soldiers for the fictional African nation of Wakanda, who also serve as the personal bodyguards of Black Panther, the nation's leader.
Throughout her career, Adams-Ginyard has had to overcome obstacles, she told The Homestretch, and on Wednesday evening she brought the message of never giving up to the Genesis Centre at an event hosted by INI Diversity aimed at inspiring young people to make a positive impact on the world around them.
"My message is that you have greatness in your DNA, it doesn't matter where you come from, it doesn't matter what someone tells you, you are great, you are a winner, you are a superhero," she said.
"Don't allow anyone to deter you from your dreams, aspirations and goals."
She also encourages people to shun negativity.
"From all angles … I don't care if it's your mom, your dad, your sister or brother, people who tell you negative things, you have to be like, 'nope, I'm not listening to that, that does not have anything to do with me, I need positive energy around me,'" she said. "The sky is not the limit, the sky is too low. There are no limits to how far you can go."
Securing the part in the film — which she called a dream come true — meant Adams-Ginyard had to shave her head and spend up to eight hours a day training to fight with weapons like the bo staff.
"I was working muscles in my arms and shoulders I didn't know I had," she said. "My wrist was hurting, both right and left because we [used] both. But it was worth it, it was so worth it."
The film breaks boundaries because it shows women and minorities in positions of power, said Adams-Ginyard.
"It really shows that representation matters. I think with a lot of our minority communities, you don't get a chance to see people who look like you, who talk like you, who have the same hair as you, on camera in leading roles," she said.
"I think that's why so many people gravitated toward it, because it does matter. It helps when you see someone on camera who looks like you because now, that's an option."
Along with Black Panther, Adams-Ginyard has appeared in a number of hit TV shows including Fear The Walking Dead and American Horror Story.