O'Donaghey has overcome trauma, addiction and homelessness; now, she's helping others do the same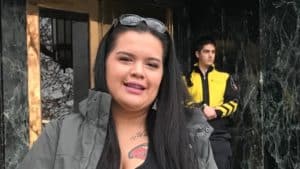 Alexandra O'Donaghey knows more about addiction, mental health and homelessness than most, so it's no wonder that she has the ear of Vancouver Mayor Gregor Robertson.
O'Donaghey, 28, is a mother of three, part of the Mayor's Task Force on Mental Health and Addictions. She's also a volunteer on the Downtown Eastside and is about halfway through her bachelor's degree.
"I don't want to stop there," she said. "I want to get my master's in social work and get my PhD."
To get to where she is today, O'Donaghey had to overcome obstacles that would have killed the ambition of many.
"I faced a lot of trauma growing up, you know?" she said.
"Mental, emotional, physical and sexual abuse."
The past
O'Donaghey fell into the cycle of addiction herself, and, as a teenager, bounced from shelter to shelter, while trying to take care of her young son.
"When you're homeless and you have a son, it's a really hard experience to go through," she said.
"You have people telling you when you have to be home. You share spaces with other people, and it's not the most ideal thing."
She got into a treatment program seven years ago and found social housing where she could live with her child.
Now, she has moved on from fighting her demons to battling stigmatization.
Homeless
The City of Vancouver is conducting a count of the city's homeless population and will deliver a preliminary report to council in May. (David Horemans/CBC)
Giving back
O'Donaghey shares Robertson's belief, that, in the short term, temporary modular housing is an effective way to get people off the street.
"I'm very thankful to see the recent investment from the B.C. government in affordable housing and homelessness and specifically, the $66 million they have invested in temporary modular housing," Robertson said at a recent news conference.
"Our big goal is to get friends, family, neighbours off the streets, out of the parks, those who are sleeping outside, in particular, into a warm, safe place to sleep."
O'Donaghey says it was disappointing to see recent community opposition to projects in the Marpole area of Vancouver and Richmond.
She says it's encouraging, however, to hear from young people who are determined to change people's minds about social housing.
"What I've heard is a lot of the backlash is people are worried about whether it's going to become an unsafe environment," she said.
"The youth want to know why are they saying this? They want to know why people think like that or what they can do to make changes."