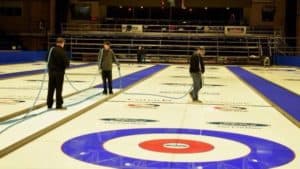 If you're a curling fan, you may want to hurry hard to North Bay.
The city is hosting the 2018 Ford World Women's Curling Championship. It's the first time North Bay has held the event.
Canada is being represented by the Jennifer Jones rink based out of Winnipeg.
Dave Bennett, one of the organizers, says hundreds of volunteers as well as staff from the World Curling Federation and Curling Canada have helped make it happen.
He says Memorial Gardens is ready to host the curlers and adds the ice was taken out of the Granite Curling Club to host a banquet hall.
"It's just amazing work that they've done," he said.
"I'm so proud to be a Granite Club member and so proud to be part of this big event."
Bennett said all the teams have arrived and some have been practicing in nearby communities, including Sturgeon Falls, Nosbonsing and Powassan.
"The fans that I've talked to have just been ecstatic about the fact that they get to watch world class curling practices," he said.
TSN will be broadcasting all the Canadian games plus the playoffs. Bennett says international media have also started arriving to cover the event.