A Facebook post resulted in one man getting a new kidney and gave the other 'an urgent sense of purpose'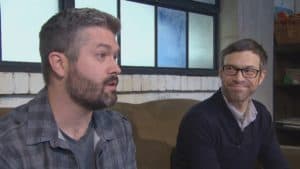 It was a life altering meeting for two men in a Mahone Bay park who struck a one-way deal involving a kidney.
It started last spring. Rob Edwards, a married father of two young boys in Lunenburg, N.S., was exhausted by his failing kidney and the cycle of getting sick, getting dialysis treatment, and then feeling OK, before plunging into another bout.
For four years, he'd been waiting for a kidney to replace the one a genetic disease was destroying. Four years of watching his son Eli turning from a toddler to an energetic seven-year-old boy; four years of watching Oliver grow in his wife Sarah's belly and turn into a lively three year old; four years of exhaustion, emotional and physical.
Twice, he was matched with live donors, but twice it fell apart.
'My darling needs a kidney'
Edwards, 38, decided to do the modern version of putting a letter in a bottle — he wrote a Facebook post.
After several friends promised to get tested to see if they were a match, Sarah got him to make the post public.
"I know in my heart the right person's out there — and it may even be a perfect stranger! either way, my darling needs a kidney, he's been suffering far too long," she wrote.
Facebook's mysterious algorithms pulled out an astonishing win and got the post in front of musician Geoff Kennedy via a local news story. Both men live in Nova Scotia and are in their 30s, but they'd never met.
Still, the Halifax man was seized with "an urgent sense of purpose."
"Reading the story, deciding that somebody has to do something, and it could be me. So why not me?" says Kennedy.
'He's brought us hope'
He messaged Edwards and the two chatted, exchanging jokes and ideas — and discussing blood types and organ surgery. Kennedy booked a doctor's visit and started the tests. Edwards says the man he'd never set eyes on drove the process forward.
Kennedy says he saw himself in Edwards, but saw his wife and two kids too.
"All of a sudden it becomes pretty apparent that you should probably look into doing something," Kennedy says.
"From the moment Geoff contacted us, he's brought us hope; that's been really transformative in the last few months," Edwards says. "This is going to be huge, everything has been in limbo, everything has been on hold. We have options now that we didn't before."
They decided they should probably meet in person. Kennedy travelled to that park in Mahone Bay and saw the young father and mother playing with their boys. Edwards can't roughhouse with them, lest they pop his catheter out. Plus, the disease drains energy from him.
Eating snacks provided by the Biscuit Eater, the men hit it off.
"It was the most casual first meet-cute you could ask for," Kennedy says with a laugh.
A "meet-cute" is plot device commonly used in romantic comedies where two characters destined to be together meet for the first time.
Repaying a cosmic debt
A month ago, the two met again for a crucial cross-match test.
"His blood and my blood are drawn at the same time and essentially mixed and observed to see if they play well together on a playground," Kennedy says.
Their blood got along as well as the men did.
On Monday, Edwards and Kennedy will meet again, this time in a Halifax operating room. Doctors will remove a kidney from Kennedy and put it into Edwards. Both will awaken changed men.
"I certainly feel I'm going to get an interesting friend out of the most unusual circumstances," Kennedy says.
He also will be repaying a karmic debt. His father, Dave Carter, suffered from a rare genetic lung disease and was reborn with a double lung transplant three years ago.
"I watched a man, fiercely independent, wither to a man imprisoned on his own couch watching the clock tick," Kennedy says of his father before the surgery.
Sarah Edwards's eyes well up with tears when she talks about the upcoming surgery. After years of deteriorating health, she feels she's getting her husband back.
"It's been a roller coaster, highs and lows. It's been very difficult. But lately, it's been so good. To have hope is amazing."
Her husband agrees.
"It lifts my spirits that there's such good in the world."