Canada loses controversial curling semifinal to China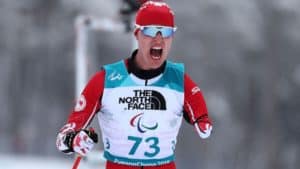 Canada's Mark Arendz claimed the first Paralympic biathlon gold of his career by winning the men's 15-kilometre standing race at the Winter Games in Pyeongchang, South Korea.
The medal was the fourth of the Games for the 28-year-old from Hartsville, P.E.I., after earning silver and bronze in earlier biathlon events and a cross-country sprint bronze. Arendz now owns six career Paralympic medals.
Arendz crossed the finish line in a time of 42 minutes, 52.2 seconds after shooting cleanly at all four intervals. France's Benjamin Daviet — who won the previous two biathlon golds in Pyeongchang — earned silver, while Norway's Nils-Erik Ulset took bronze.
Arendz's medal, combined with Collin Cameron and Brittany Hudak both winning bronze, brought Canada's total to 19 at these Games, tying a national record set in Vancouver in 2010. Canada will surpass that total by virtue of the para ice hockey team reaching the gold-medal game; the team is guaranteed either a gold or silver in that game, which will bring the total to 20.
Cameron added to his Paralympic biathlon medal total with a bronze in the men's 15-km sitting race. The 29-year-old from Sudbury, Ont., crossed the line in a time of 50:59.1 while incurring only a single shooting penalty to finish just behind Germany's Martin Fleig and American Daniel Cnossen.
Cameron claimed his first-ever Paralympic medal on the opening day of competition, racing to bronze in the 7.5-km event.
He also had fourth- and fifth-place results in cross-country.
Hudak of Prince Albert, Sask., earned another bronze for Canada with a time of 41:20.7 in the women's 12.5-km standing race.
It was the 24-year-old's first Paralympic medal, having finished fifth and eighth in two earlier races.
Emily Young of Kelowna, B.C., finished seventh.
China deals Canada historic loss
Chinese skip Wang Haitao needed to be perfect on his last shot of the game, and he delivered with the hammer to give China a 4-3 win and deny Canada a shot at a fourth-consecutive wheelchair curling gold.
It was a back-and-forth affair between Canada and China, but the match drew to a halt in the seventh end after a stone hit Canadian skip Mark Ideson's chair. As a result of the burned rock, China decided to place the stone in the rings where it hit Ideson's wheel, which led to protests from the Canadian rink. It appeared the rock was on its way out when it was burned.
Ultimately, the officials placed the stone at the back of the rings and the end was eventually blanked to set up a decisive eighth.
Canada comes up short in snowboarding
Canada's seven competitors were unable to medal in the Paralympic debut of snowboarding banked slalom. Michelle Salt, who placed fourth in LLI snowboard cross, finished fifth in her banked slalom event; Sandrine Hamel also placed fifth in the LL2 banked slalom.
Curt Minard (UL) and John Leslie (LL2) both finished eighth in their respective events. Andrew Genge placed 17th in the UL banked slalom, while Alex Massie and Colton Liddle finished 10th and 12th, respectively, in the LL2 event.