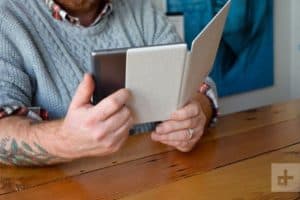 In October, Kindle launched its All-New Kindle Oasis which included a list of impressive features and improvements. While there were are fabric covers to customize the hardware a bit, the Oasis was only available in one color — graphite. But Amazon is now offering a "Champagne Gold" color option as well.
The gold variant starts at $280, which is pricier than the original color but not by much. It's currently available for pre-order through Amazon, and will officially be released on March 22.
As for the gray option, it starts at $250 for 8GB (twice the capacity of last year's model) and also comes in a 32GB configuration with cellular connectivity for $350. To protect the device, fabric covers come in indigo, sandstone, and charcoal colors for $45, and premium leather covers in midnight, saddle tan, and Merlot for $60.
The All-New Kindle Oasis has a larger (7 inches) and thinner (0.13 inches) high-resolution 300ppi screen that fits 30 percent more text on a page than the 2016 Oasis and flips pages faster than any other Kindle. Its ergonomic finish is designed to rest in your palm "like the spine of a book," and its custom-designed aluminum backplate weighs in at just 194 grams — 10 grams lighter than Amazon's ultra-compact Kindle Paperwhite.
But that's the tip of the iceberg. The display of the Oasis is shielded by Amazon's "strongest cover glass" and has built-in light sensors that adjust the screen's brightness based on ambient lighting conditions. It's also completely waterproof, a Kindle first. Amazon says it is IPX8-rated to protect against immersion in up to two meters of water for 60 minutes. And it has a fast-charging battery that delivers a full charge in less than two hours.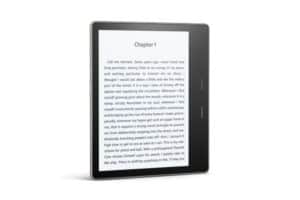 The improvements are more than skin-deep. The Oasis ships with Audible, Amazon's library of more than 375,000 audiobooks, magazines, newspapers, and radio shows, which stream wirelessly via the ebook reader's Bluetooth radio to headphones, speakers, and earbuds. There is also more accessibility options including custom fonts, inverted black-and-white color schemes, enlargeable home screen shortcuts, and ragged right alignment.
That's all in addition to the longtime Kindle feature Whispersync, which syncs pages, bookmarks, and annotations across all of your Amazon devices and apps, and Word Wise, which pulls up definitions of challenging words and phrases.