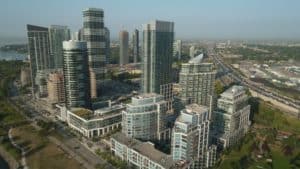 Toronto's former top planner is teaming up with a major developer on a plan to build affordable housing in Canada's most expensive cities.
Jennifer Keesmaat says she's working with Westbank — headquartered in Vancouver — on a comprehensive approach to building more affordable housing units. That plan will seek government funding as well.
In Toronto and Vancouver, there's a major disconnect between incomes and the price of housing, something that's becoming a "critical issue," Keesmaat said in an email. Many Vancouver residents say it's a nightmare trying to find housing, while in Toronto vacancy rates are now the lowest they've been in 16 years.
"This is an issue that will require all three levels of government and the private sector working together, to make a meaningful impact."
Keesmaat declined to provide specifics about the work, but says more information will be released in the coming months. CBC Toronto has reached out to Westbank, but hasn't received a response yet.
Ottawa reviewing proposal
Adam Vaughan, the federal parliamentary secretary for housing and urban affairs, says he's aware of an affordable housing proposal from Westbank that's being reviewed, and suggested there may be more companies interested in working on similar projects.
He says federal funding would come from the $40 billion national housing strategy, which aims to build 100,000 new affordable housing units and repair some 300,000 more across the country over the next decade.
"Those dollars start in April," Vaughan said. "There will be announcements."
Vaughan says cities like Toronto need more purpose-built rental housing as well as truly affordable units.
A recent City of Toronto survey of some 4,895 publicly-available rentals found the average monthly rent was $1,829 per month, far higher than the Canada Mortgage and Housing Corporation's estimate of $1,240 per month.
It's unclear what role Queen's Park and the Liberal government's fair housing plan will play.
"We have not seen a proposal for this particular project yet but would welcome any new affordable housing," a spokesperson for provincial housing minister Peter Milczyn said in an email.
At city hall, multiple sources say they've heard about Keesmaat's new organization, however, they're waiting for details.
Developer already working in Toronto, Vancouver
Toronto is working to build affordable housing, although some critics say it's not moving fast enough.
Westbank, meanwhile, is currently redeveloping the Honest Ed's site. Its plans include building some 1,000 rental units.
In Vancouver, the company has worked on several massive developments, and also has an offshoot called Creative Energy, which aims to reduce the city's carbon emissions.
Keesmaat had hinted at the announcement, tweeting that people can expect "something exciting" on the affordable housing front soon. Following a discussion about real estate last week, she tweeted: "Vancouver and Toronto need affordable rental housing — and lots of it quickly — to provide housing for all."