Americans find shopping at the top digital retailers to be a better experience than shopping in the highest rated brick-and-mortar chains, according to a new report from the American Customer Satisfaction Index (ACSI).
The Internet Retail category did drop slightly, scoring an 82 on the 100-point scale after putting up an 83 last year. Department and discount chains dropped as well, to a 77 from a 78 in 2016, while specialty retail fell from an 80 to a 79. In addition, L Brands (NYSE: LB) was the only company in either department and discount or specialty to equal Amazon.com's (NASDAQ: AMZN) 85 as the top-scoring company.
"Amazon is nearly inescapable in retail right now, as the e-commerce giant makes moves into grocery stores and pharmacies, expanding its footprint into multiple retail industries," said ACSI Managing Director David VanAmburg in a press release.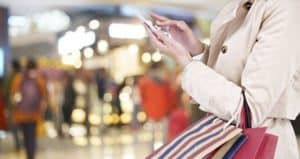 What did the survey say?
Across all retail categories, consumer satisfaction has stayed about the same as last year. The ACSI Retail Report shows that the overall retail sector scored a 78.1, down only slightly from last year's all-time high of 78.3.
Costco (NASDAQ: COST) scored highest among all department and discount stores with an 83, the same as it scored last year. It was followed by Nordstrom with an 81, then its warehouse-club rivals BJ's and Walmart's (NYSE: WMT) Sam's Club at 80, which Kroger's Fred Meyer also scored.
No other retailer in the category scored at least 80. Dollar General was the big loser in the category, dropping from a 78 in 2016 to a 73 in the latest report. Sears Holdings' Sears stores also dropped big, scoring a 73 after putting up a 77 last year, ranking it only one place ahead of Walmart, which came in last with a 71.
"Industrywide, almost all elements of the shopping experience have declined," according to the report. "As store closures continue, locations and opening hours are becoming less convenient. Clearly, online retailing is setting a new standard for comparison here."
What about specialty and internet?
In general, consumers like specialty retailers better than they do department and discount stores. L Brands was the clear winner with an 85, but Cabela's (82), Barnes & Noble (81), and O'Reilly Auto Parts (81) all scored higher than 80. Even Home Depot, which dropped to 76 from an 80 last year, well outscored Walmart's ranking.
"According to customers, staff at specialty stores provide excellent service and outperform every other retail category," according to the ACSI. " These employees often have an area of expertise and deeper knowledge of products, and customers find them most helpful and courteous."
Internet is really a one-company category, with Amazon leading the way at 85. Still, lesser-known Newegg (83) as well as eBay (81) and Overstock (81), the only companies named in the report, all beat 80.
What does this mean?
Amazon is the measuring stick by which all retailers have to view themselves. The online giant is omnipresent and never closes. It also has high-quality customer service and offers consumers a good experience.
That creates a high bar for retailers to live up to, although the niche specialty players may be given some more leeway from customers as long as they offer niche expertise. Amazon, in general, has pushed all other retailers to either get better or to risk falling way behind.
Of course, there is an exception to every rule, and Walmart still ranks last across all retailers. That may be a case where perception hasn't caught up to reality, since the retail giant has done a lot in the past year to improve its in-store and online experiences.
Still, perception matters, and Amazon, Costco, and L Brands are clearly both offering a good experience and making customers realize that's what's happening. Walmart should be able to gain some ground next year if it can keep up the efforts it made in 2017.