Reid 'kicked open the door in Vancouver in making space and making room for Northwest Coast art'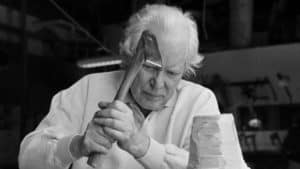 Bill McLennan doesn't remember the first time he met legendary Haida artist Bill Reid, but he figures it must have been at the Museum of Anthropology about 40 years ago.
The University of British Columbia museum was about to open, and Reid was often seen poking around. He had been commissioned to carve one of his most recognized works, Raven and the First Men.
"I worked here for so many years and I never once had to say to people, 'You should like that because it's from the Northwest Coast,'" said McLennan, a former curator at the museum. "People just love it."
McLennan also remembers how Reid was beginning to struggle with the early symptoms of Parkinson's — the disease that eventually killed him 20 years ago this week. He was 78.
Many are familiar with Reid's masterpiece Spirit of Haida Gwaii, which welcomes visitors at the Vancouver International Airport. The same piece, along with a few others, is featured on some $20 bills.
Reid is often acknowledged as a force whose meticulous work helped establish Northwest Coast art as one of the world's most recognized and admired creative works. Pieces from some established Indigenous artists fetch tens of thousands of dollars.
And two decades after his death, the influence of Reid's work continues to be seen through the lens of a new generation of Haida artists.
Reid grew up with his mother in Victoria. His father was of mixed German, Scottish and American heritage.
Although his mother's Haida family would often come to visit, Reid didn't recognize his own Haida identity until he visited what was then called the Queen Charlotte Islands for his grandfather's funeral. He was in his early 20s.
While Reid was there, he noticed his family wearing bracelets designed by renown Haida artist Charles Edenshaw, his grandfather's uncle.
"He said that's what changed his life," McLennan said. "That's what changed him to focus on Haida art and bring it into the new."
Reid had previously worked as an announcer and host for CBC. But he began studying and carving jewelry in the Haida style. Reid studied at Ryerson, and then apprenticed with jewelry makers in London.
Eventually, Reid took on larger carving projects. He worked with well-known Kwakwaka'wakw artist Doug Cranmer on replicas of a Haida house and mortuary house at the Museum of Anthropology.
"Those two were so instrumental in people seeing Northwest Coast art again and realizing it's not a dead art form," McLennan said.
"It wasn't going to be put on a shelf and people saying, 'Oh that's too bad, it's gone.'"
But when it was time for Reid to build Raven and the First Men, the early signs of Parkinson's pushed him to hire help for the finer finishing work.
This, according to McLennan, is what first compelled him to mentor younger Haida artists like master carver Jim Hart, who recently built UBC's Reconciliation Pole.
What strikes McLennan, and many others, the most about Reid's work is its attention to detail.
McLennan says the meticulous nature of his projects, along with Reid's vision and drive, helped people recognize and admire Northwest Coast art.
Haida and Nisga'a curator and artist Kwiaahwah Jones agrees that Reid played a large hand in how the region's art is seen still today.
"Bill really kind of kicked open the door in Vancouver in making space and making room for Northwest Coast art in a big way," Jones said.
"If you look at his monumental works in the city, they changed how people think about Native people in a lot of ways."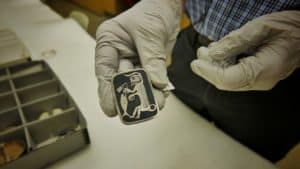 Jones recently co-curated an upcoming exhibit called Haida Now at the Museum of Vancouver. The exhibit is a collection of more than 450 pieces of Haida art.
She was once a curator at the Bill Reid Gallery in downtown Vancouver, where she often met artists who had been affected by Reid and his work.
"There's not one person in the Northwest Coast art world that hasn't been touched or influenced by Bill," she said.
Jones was one of the people who paddled Reid's remains in a canoe in Haida Gwaii when he died.